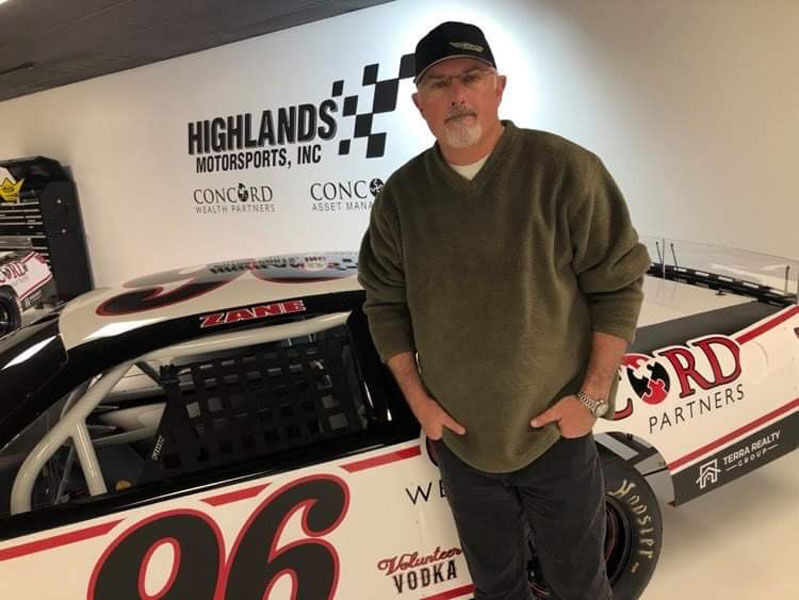 ABINGDON, Va. – Lorin Ranier has never won a NASCAR race, but the Eastern Kentucky native is one of the most powerful and connected men in the sport.
The son of famed Cup team owner Harry Ranier, Lorin helped bring A-list drivers such as Davey Allison, Tony Stewart and Kyle Larson into NASCAR. He also has groomed countless other motorsports prodigies.
"NASCAR is more than a job, it's a lifestyle. And I live it every day," Ranier said.
Ranier, 55, came to Abingdon on Feb. 1 with one of his rising stars.
Zane Smith, who finished second in the NASCAR Truck Series standings last year, is scheduled to compete in 6 to 8 Super Late Model events this season for the Highlands Motorsports team owned by Abingdon businessman Wade Lopez.
"I've been working with Zane for about three years and he's an incredibly well-rounded talent," Ranier said. "Zane can drive a race car with the best of them, plus he's great with fans, sponsors and teammates."
In addition to winning two Truck races last year, the 22-year-old native of Huntington Beach, California was voted as the most popular driver.
"How many drivers have ever been voted as the most popular in their first year competing in a series," Ranier said. "That's hard to believe when you consider veteran drivers like Matt Crafton and Johnny Sauter have been in trucks for years and have big fan bases."
Ranier has been able to search out talent since the mid-1980s when he convinced his father to put Allison behind the wheel of the iconic No. 28 Ford.
Harry Ranier, a coal mine operator from Prestonsburg, Kentucky, won 24 Cup races in 276 races. That mark includes three Daytona 500 victories, including two with Cale Yarborough and one with Buddy Baker.
Lorin also took notes from legendary Ranier Racing titans such as crew chiefs and engine builders Waddell Wilson and Robert Yates. Harry Ranier died in 1999 at age 62.
"I learned all about racing from the absolute best people in the business," Lorin said. "Dad was as fine of a car owner as there ever was. His percentage of wins, pole positions and top-five finishes is just amazing."
The success rate for Lorin Ranier is equally impressive. His list of clients ranges from Allison and Stewart to seven-time Cup champion Jimmie Johnson, Matt Kenseth and 2020 Truck Series champion Sheldon Creed.
"We brought Stewart down to NASCAR in the 1990s, and we've developed a lot of drivers such as Jamie McMurray, Casey Mears and Reed Sorenson during my 17 years with Chip Ganassi Racing," Rainer said. "So yes, I've been fortunate to do this a long time with a lot of talented drivers."
Ranier also has another key vantage point inside the sport. He's regarded as one of the top race-day spotters and helped navigate 2000 Xfinity Series Austin Cindric during his Daytona 500 debut last week. Ranier will continue to work with Cindric this season for Cup races held on oval tracks.
What's the secret to finding and cultivating young drivers?
"There's a process, but it's more tailored to the individual," Ranier said. "When a kid comes along, you have to see where his talent is and what you have to work funding-wise. Then you can place him with a team where he can grow. That's kind of my expertise."
Another Rainer project is Sam Mayer, a 17-year-old Wisconsin native who won the past two ARCA East championship and swept the ARCA and Truck races on the same night at Bristol Motor Speedway last September. Ranier served as Mayer's spotter during the BMS truck event.
"Sam is a phenomenal young driver," Rainer said. "Sam's father contacted me when Sam was 11, and we kind of laid out a long-term plan through karting, legends, late models and ARCA."
When Mayer turns 18 later this year, he will drive for JR Motorsports in the NASCAR Xfinity Series.
The immediate task for Mayer is Friday's Truck race on the Daytona Road Course where he will drive the No. 75 entry for the Abingdon-based Henderson Motorsports team owned by Charlie Henderson.
Ranier also represents GMS Racing rookie Chase Purdy through his Ranier Racing Development organization.
As for Zane Smith and his deal at Highlands Motorsports, team officials are still working on firming up a schedule of marquee events.
"I think Wade and Josh (Reeves) have a good plan to be a force on the short track scene," Ranier said. "They have the best equipment money can buy and they have a driver in Zane who will be in a Cup car soon."
While Ranier lives in Davidson, North Carolina, he hasn't lost touch with his blue-collar roots. Ranier is a cousin of Belfry High School football coach Philip Haywood, a former national coach of the year and six-time state champion who holds the record for all-time wins in Kentucky.
"I've been fortunate to grow up around a lot of great people and to work with some really talented kids," Ranier said. "It all comes down to hard work and commitment. That's what it takes in NASCAR and in life."