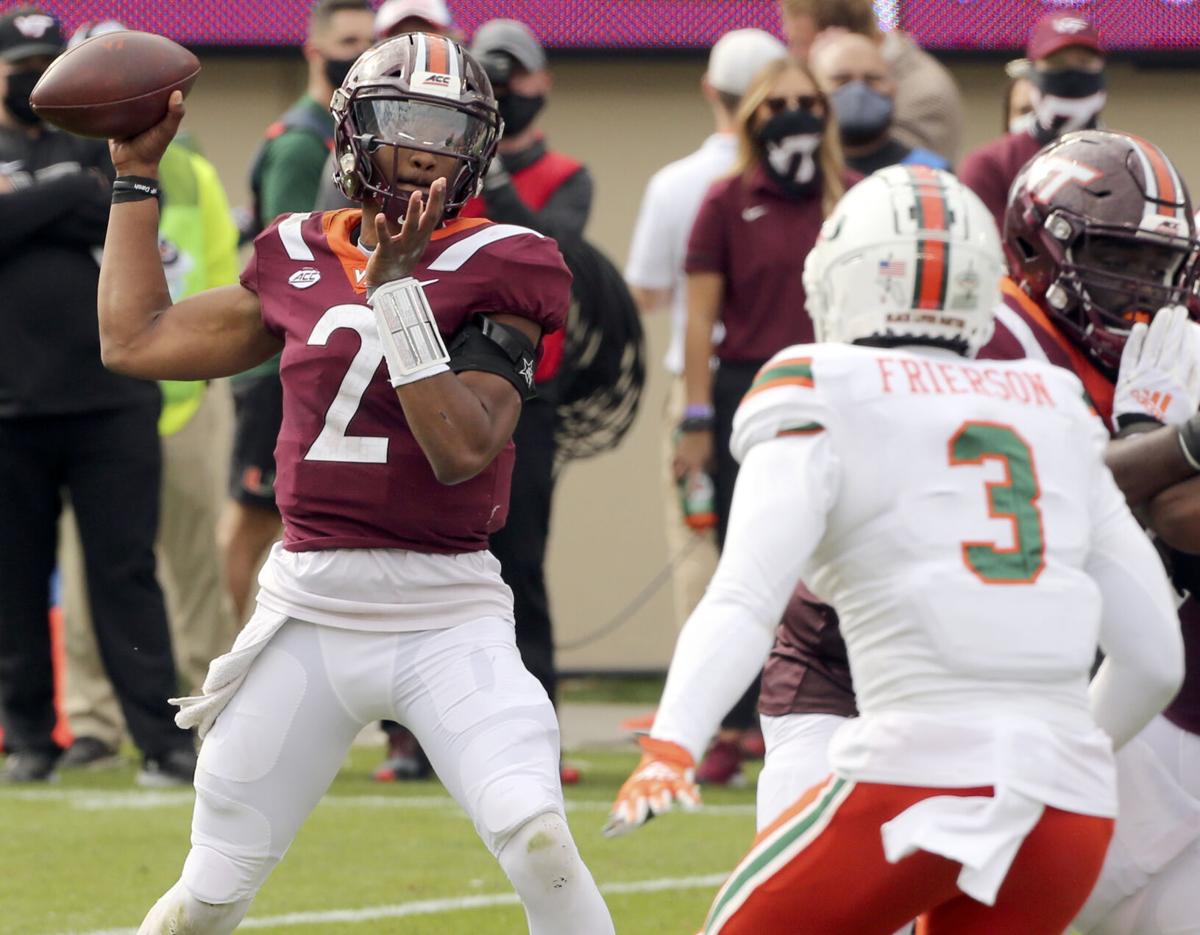 Here's what to look on Saturday when Virginia Tech takes on Pittsburgh at 4 p.m from Heinz Field...
---
Keep an eye on Hendon Hooker
Virginia Tech quarterback — Hooker bounced back after he struggled against Wake Forest with impressive performances against Louisville and Liberty. He played well through two and a half quarters last week against Miami with the coaching staff continuing to lean on him to carry the team's rushing attack. With Pittsburgh expected to pack the box on Saturday, he will need to make some throws just as he did in last year's matchup between the rivals when he went 10 of 13 for 153 yards with two touchdowns.
---
(Tech) OFFENSE: Tech shouldn't stay down for long
Tech struggled down the stretch against Miami going scoreless on its last five possessions, but extended droughts have been rare for the Hokies offense this season. Recent injuries to running back Khalil Herbert and tight end James Mitchell contributed to those struggles. Coach Justin Fuente was optimistic Herbert would be back at 100% this weekend — he only had eight carries in the loss to Miami — and what kind of workload he's able to handle could make a big difference on Saturday. Tech has faced some dynamic offenses in recent weeks, but Pittsburgh doesn't fit in that category. The Panthers have relied heavily on quarterback Kenny Pickett, who is healthy after missing two games in October. Pickett has thrown for 1,599 yards (62.3 % passing) and 14 touchdowns (eight passing). Pitt is barely averaging more than 100 rushing yards a game this season while top back Vincent Davis is only averaging 3.0 yards per carry.
(Pitt) DEFENSE: Pitt's defense better than lackluster record
Pitt has a top 10 defense with one of the best run defenses in the country this season. The Panthers are only allowing 78.8 yards per game and opposing offenses are only averaging 2.2 yards per carry (No. 1 in the FBS). They also lead the FBS in both tackles for loss (93) and sacks (38). Their passing defense has struggled a few times this season, but they have come up with multiple interceptions in five of their eight games.
(Tech) SPECIAL TEAMS: Tech trying to get past special teams hiccup
Virginia Tech's coverage units have been rock solid and most of the team's specialists — Oscar Bradburn, John Parker Romo and Brian Johnson — are having good seasons. The Hokies have felt Herbert's absence on kick returns, but the team's main source of struggles on special teams is on punt returns. Fuente said the whole group needs to play better even after replacing Tayvion Robinson as the team's starting punt returner with Raheem Blackshear.
(Tech) INTANGIBLES: Hokies looking to break Heinz Field curse
Virginia Tech's win at Pittsburgh in 2016 was the first inside Heinz Field. The Hokies are 1-5 at the stadium located in the heart of the city and the most recent setback there was an embarrassing 52-22 loss in 2018. It was one of the worst statistical defensive performances in program history. Tech has plenty of defenders including the likes of Dax Hollifield, Divine Deablo, and Jermaine Waller who will be looking to avenge the loss on Saturday. Pittsburgh is also still dealing with the fallout from having to pause football activities due to COVID-19 protocols. The team hasn't detailed how many players were impacted, but they had to cancel last week's game against Georgia Tech and only will have one practice before playing on Saturday.
Niziolek's prediction: Virginia Tech 28, Pittsburgh 17
Pittsburgh's offense just doesn't have the type of playmakers Tech has struggled with this season. The Hokies might have to claw and scrape for points, but they have enough offensive talent to make this comfortable win especially if Pitt ends up short-handed thanks to the team's recent bout with the coronavirus.
---
Virginia Tech Keys to the Game
Max protect — Virginia Tech's offensive line struggled a bit last week. Miami had multiple sacks and quarterback hurries in the final minutes, and the consistent pressure made it nearly impossible for the Hokies to get in a rhythm. They need to give Hooker more time in the pocket on Saturday to let him look down field and get some explosive pass plays.
Tick tock — Tech won the time of possession battle in last year's 28-0 win over Pittsburgh by 11-plus minutes. The Hokies lost the time of possession battle by almost 15 minutes against Liberty and more than five minutes to Miami. They can't afford to let Pitt control the tempo.
Pick it up — Miami punter Lou Hedley averaged 52.4 yards on seven punts last week against Virginia Tech and dropped three of those attempts inside the 20-yard line. Hedley's a talented punter, but that was better than his season average by more than five yards per punt. Tech gave up tons of yardage by letting multiple punts backing out of a fair catch and letting the ball bounce. They can't let the opposing team's punter be that big of a weapon.
Be the first to know
Get local news delivered to your inbox!