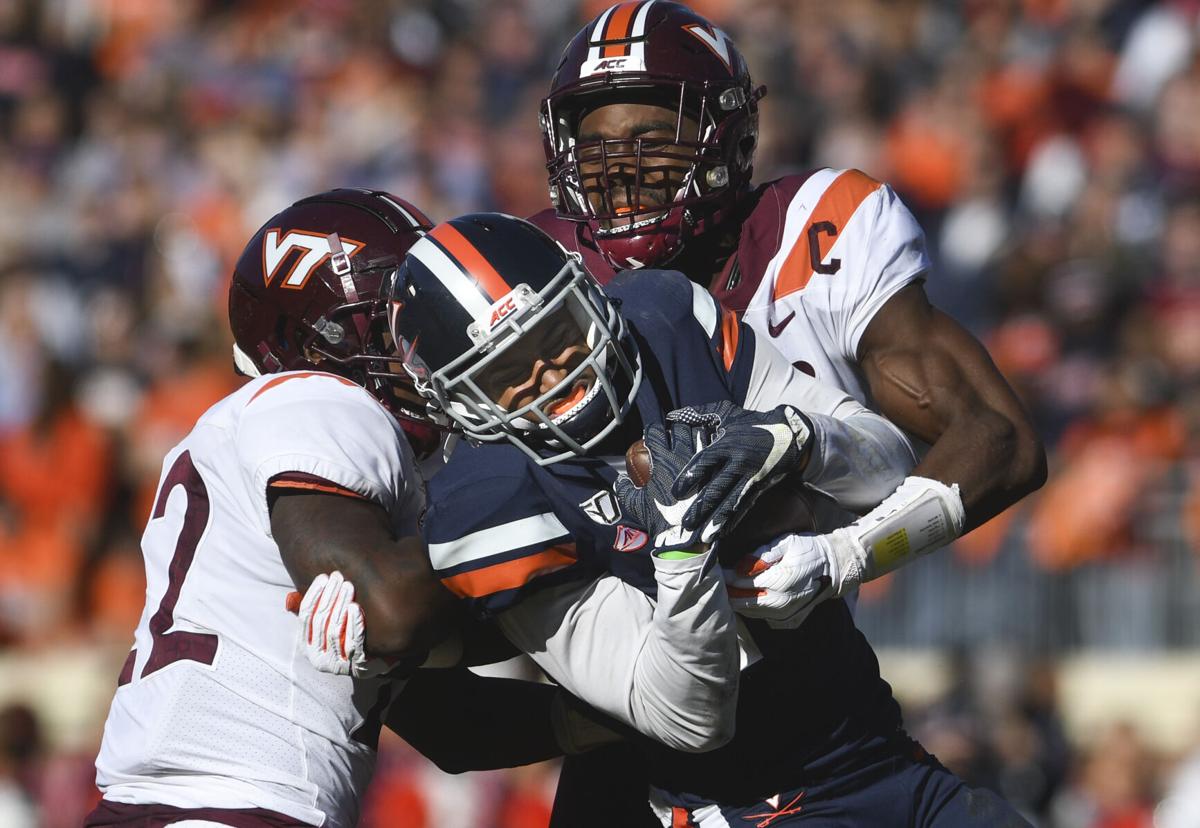 BLACKSBURG — The difficulty level of Virginia Tech's 2020 season got bumped up a notch on Wednesday.
Defensive back Caleb Farley, Tech's best player and one of the top overall returning players in the ACC, announced plans to sit out this fall and prepare for the NFL Draft over COVID-19 concerns.
Twenty five minutes later, five-time defending ACC champion Clemson got added to the Hokies' 2020 schedule.
The ACC announced a new 11-game scheduling model for the fall with 10 conference games and one nonconference game. Tech kept much of its original conference slate intact, but swapped out a home date against Georgia Tech for home games against N.C. State and Clemson.
The Hokies weren't scheduled to play N.C. State until the 2022 season, and their next game against Clemson wasn't until 2024.
Georgia Tech might not be the doormat it was last year as it moves into year two of a major rebuild under second-year head coach Geoff Collins. But trading the Yellow Jackets for a Clemson program that's reached the national title game four of the last five years (and won two championships during that stretch) isn't an even swap.
Clemson is a national title contender once again with running back Travis Etienne and quarterback Trevor Lawrence. Etienne is only the seventh player in ACC history to win the league's player of the year award twice. He has 4,600 career yards with 62 touchdowns.
Only two ACC opponents (Syracuse and North Carolina) held Etienne to fewer than 100 yards last year.
Lawrence, who is likely to be the first pick in the 2021 NFL Draft, has been equally productive. The 6-foot-6, 220-pounder didn't look much like a typical underclassman as he's thrown for 6,945 yards (65.5%) and 66 touchdowns.
Virginia Tech has played Clemson twice during coach Justin Fuente's tenure. The Hokies lost, 31-17, in a 2017 regular season matchup at Lane Stadium. The teams also played in the 2016 ACC title game with Clemson prevailing 42-35. Tech came back from a 21-point deficit to get within a touchdown in the final six minutes.
N.C. State isn't nearly as intimidating of an opponent, but the game comes with some intrigue.
Coach Dave Doeren revamped his coaching staff after going 4-8 (1-7 ACC) in 2019. He hired five new assistant coaches including former longtime Tech defensive line coach Charley Wiles and former Tech defensive backs coach Brian Mitchell in the same roles they had with the Hokies last season.
Wiles and Mitchell weren't retained after Tech promoted Justin Hamilton to replace Bud Foster as the team's defensive coordinator. Wiles had coached the team's defensive line since 1996, and Mitchell had been on the staff since 2016.
The one remaining question mark for Tech's 2020 schedule is which nonconference team will fill that plus-one spot. All nonconference games this season must be played in the home state of the ACC school.
On Wednesday, a Liberty spokesperson said it remained in discussions with the Hokies about possibly rescheduling the now-canceled Sept. 5 game between the programs.
Tech has declined to address the scheduling changes, but with the Big Ten, Pac-12 and now the SEC all moving to conference-only schedules, the pool of Power Five teams will be limited.
Mike Niziolek is the Virginia Tech football beat writer for The Roanoke Times. Follow him on Facebook and Twitter.
Be the first to know
Get local news delivered to your inbox!