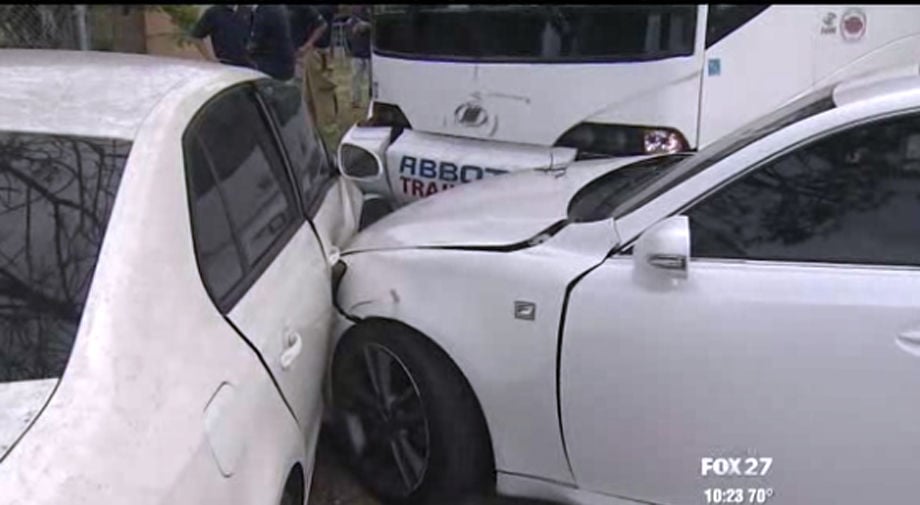 Bernard Martin, the Virginia baseball team's bus driver who lost consciousness behind the wheel late Thursday afternoon in Miami, died shortly after arriving at Mercy Hospital, Miami police spokeswoman Kenia Fallat told The Daily Progress.
Martin, 72, was taking the Cavaliers, in Miami for a weekend series with the Hurricanes, from the Miami airport to their hotel when he experienced a medical episode, forcing members of UVa's coaching staff to "jump into action," according to Miami Fire-Rescue spokesperson Lt. Iggy Carroll.
As staff members attempted to gain control of the bus and remove Martin from his seat, the vehicle, veering off the side on U.S. Route 1, crashed, hitting three parked cars and a motor scooter.
Carroll said the impact caused a fence post to penetrate the bus' windshield "right where the coaches were originally sitting, blocking the exit door."
Employees from a nearby car wash helped remove the post, allowing the bus door to open.
A member of Virginia's training staff then performed CPR on Martin until the paramedics arrived.
No UVa player or coach suffered injury.
Martin, who had been employed by Abbott Trailways of Roanoke, was a longtime fixture with UVa athletics, driving a variety of Cavalier teams.