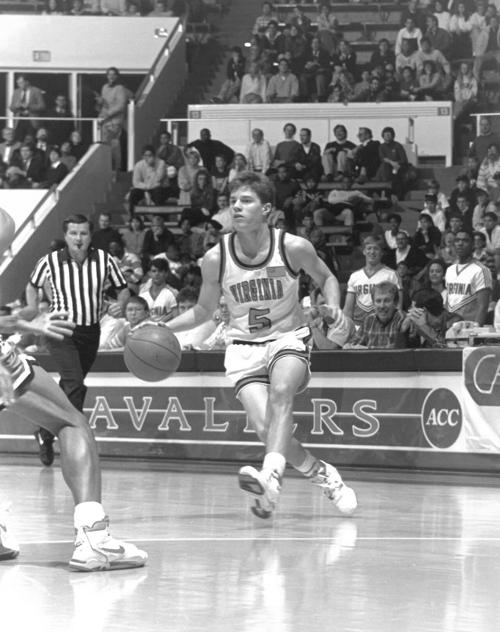 Being feisty, competitive and kind is a rare blend of traits.
For former Virginia men's basketball player Bernie Floriani, it's how those who knew him describe him.
Floriani, a former walk-on who originally came to UVa on a partial golf scholarship, died Thursday after a battle with ALS.
He leaves in his wake an abundance of memories and life lessons for former teammates and young basketball players lucky enough to cross in his path.
The point guard, who graduated from Virginia in 1991, was tasked with guarding John Crotty for much of his collegiate career. Despite the former golfer facing a future 11-year NBA veteran, Floriani never backed down.
"I'll never forget this one practice, we're in the middle of the ACC season our senior year and you're in the ACC season in February and the starters are dragging a little bit because it's a lot of minutes," said Dirk Katstra, a member of those Virginia teams who also lived with Floriani his senior year. "Bernie's not taking any play off in practice, and Bernie's d'ing up John. You're running through offense and Bernie's not gonna let him get anything easy."
Crotty wanted a chance to rest his legs in between games. The feisty walk-on wasn't having it.
"He was d'ing up John to the point John got completely frustrated with him, I think threw the ball at him," Katstra laughed.
The memory draws a laugh from Crotty as well. In the dog days of the college basketball season, Crotty wanted to ease through practice before embarking on the next ACC battle.
Unfortunately for Crotty, some of those ACC battles came in practice.
"I never really looked at him as a walk-on, even though that was the role he was playing," Crotty said. "His job every day was really to guard me and bang me around, and you know, he did a pretty good job of that."
The energy and intensity will be remembered by his former teammates, even after ALS took some of Floriani's physical ability away. There was something about the guard that drew people closer.
"Everybody liked him," Katstra. "Just one of those guys that you like being around."
Floriani's passion for the game extended past the collegiate ranks.
When his career at UVa ended, Floriani eventually made his way to Illinois. He became a State Farm agent in Gurnee, Illinois, going by "Bernie from Gurnee." He opened the agency in 1997.
In addition to his career, Floriani coached basketball in the area. He left a mark on a pair of current high schoolers who played for him during elementary school.
"I remember one thing that stuck out to me right away was the first practice," Julius White, a rising high school senior who played four seasons under Floriani, said. "Usually in like a basketball practice you're gonna go straight to layup lines or like dribbling drills, and the first practice we didn't even really touch a basketball."
Instead, the former Wahoo taught them basketball basics. They learned about the court. They learned what Floriani meant when he said "the elbow."
He wanted them to understand the game before attempting to play.
Most of the team stayed together for a few years, learning how to play the game as a team. At social functions, the team would sometimes find a hoop and play together. They'd run offensive sets in driveways as they showcased the lessons Floriani taught them.
In competitive settings, the youngsters found consistent success under the fiery Floriani.
"We were good," Josh Pos, a rising high school junior, said. "I'm not saying we weren't good, but we were such a tight-knit group that he carried us, and that's what got us to all the championships. I think every weekend in our final couple years we had a medal, smiling, first place, No. 1s up in the air. All because of Bernie."
The duo laughed as they remembered Floriani's heated moments. When he became irritated, his lip would quiver and his face would turn bright red.
The competitive nature never left.
Even when burning hot, Floriani never took it too far. Pos and White remember that Floriani never cursed. He never singled out any specific players. He wanted the group to play as a team and he wanted commitment to the team, but he also wanted to use discipline to help build the players up rather than tearing them down.
"He was a good basketball coach and on top of that he had perfect morals for basketball and just for life," White said. "It wasn't even about basketball after, it was just about taking every challenge personally and really trying your hardest whenever you can."
Pos and White haven't played for Floriani in years, but he remained an important figure in their lives until his death.
One summer, after White suffered a severe knee injury, he felt down about life. He struggled with the inability to exercise and compete in sports like he had, and he was going to opt out of his basketball program's 15,000 shot club.
The challenge asks players to make 15,000 shots over the course of about two months during the summer. White only made about 100 shots the first month, and he didn't have plans to make many more. Then he received a text from Floriani.
He wanted to know how White was progressing. White lied, saying he made a few hundred. He ultimately decided that if Floriani was willing to check in on him and genuinely cared about his progress, he should too.
"The next 30 days, I made 500 shots a day," White said proudly.
Floriani checking in helped White get back on track mentally after his injury.
"That motivation booster, that just checking in and saying, 'What are you doing, what's up?' that is something you can't replicate," White said.
Even after his passing, Pos and White cherish the memories and lessons they learned from their former coach.
"Just the greatest coach of all time, I'd say that," Pos said. "I'll never have a coach as great as Bernie."
Be the first to know
Get local news delivered to your inbox!