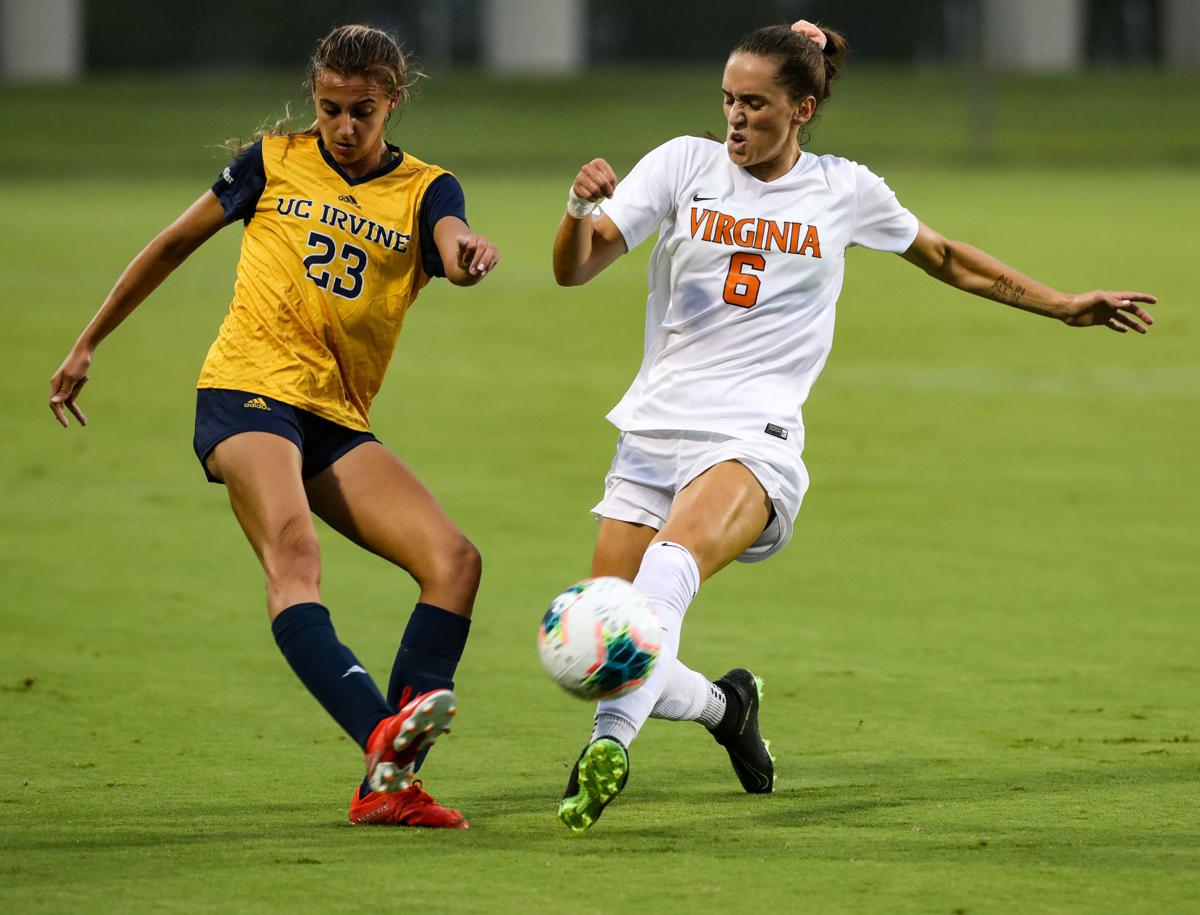 Football draws the most attention of the fall college sports, but it's far from the only relevant collegiate athletic competition hoping to return to action during a pandemic.
As college administrators ponder how to safely play fall college football, they're also coming up with plans to play Olympic sports safely, starting in September.
In addition to football, Virginia's volleyball, field hockey, soccer and basketball programs are back in Charlottesville preparing for a return to athletic competition.
"Just going through some initial protocols to get back on the court here as soon as we can for voluntary workouts," UVa volleyball head coach Aaron Smith said last week. "They've reported, and yeah, eager to get back in the gym here soon."
On Wednesday, the ACC released return-to-play guidelines and scheduling changes. While football scheduling attracted the most headlines, every fall sport was impacted by the ACC's announcement.
As players excitedly return to campuses for workouts, they're now greeted with new protocols and an unusual schedule.
Health standards
COVID-19 remains a massive hurdle to a safe fall season. Testing and other health standards are critical to the success of any fall sports taking place safely.
For volleyball, field hockey, soccer, lacrosse, basketball, wresting and rowing — all deemed high-risk sports in terms of potential COVID-19 exposure by the ACC — will receive COVID-19 tests every week, starting with the first week of competition. The ACC will allow fall Olympic sports to compete beginning on Sept. 10, per the latest announcement from the league.
That means at a minimum, athletes need to be tested in early September.
For medium-risk sports — baseball, softball and cross country — tests are required every other week. Low-risk sports — golf, tennis, track and field, fencing and swimming and diving — don't require tests. Those programs are asked to follow local and state guidelines when it comes to receiving tests and maintaining physical distance from other competitors.
Other minimum health standards include contact tracing, arguably one of the biggest hurdles to a fall season happening safely. If someone is deemed to have close contact with someone who tests positive for the coronavirus, they're required to quarantine for 14 days before a return to activity.
Players who test positive are isolated for at least 10 days as they aim to recover from the virus. Specific medical treatments are determined by the team's medical staff.
"The quarantine time is really a trickle down from the CDC, and so I think as each of us, individual teams, individual conferences and up to the NCAA, I think really what we're finding is when standards like that are established by an organization with their broad-reaching impact on all of our lives, it's really difficult to offer up anything that is less stringent and feel comfortable with it," Dr. John MacKnight, UVa's representative on the ACC's COVID-19 Medical Advisory Group, said.
The quarantine from contact tracing particularly hurts Olympic sports. While the football team has more than 100 players, the UVa women's soccer team's roster included 26 players a season ago. The volleyball team's roster lists 17 student-athletes. One positive test followed by contact tracing could leave the team without a significant percentage of its roster for two weeks.
That could lead to cancellations or postponements, whereas a handful of football players testing positive might not stop a game from occurring as scheduled.
Under the current guidelines, players who test positive and recover don't have to take weekly pre-competition testing for 90 days, starting from the date of the positive test. If an athlete who tested positive once starts to show symptoms, then they are tested again. The 90-day rule is based off research that suggests people who test positive and recover develop immunity for at least a 90-day period. New research could lead to future changes in that protocol.
Other health protocols, like sanitization of facilities, are also outlined by the ACC and apply to all athletic programs.
It's a tricky situation, and considerations like contact tracing and quarantining make a return-to-action all the more challenging, especially for Olympic sports.
Return to action
Fall Olympic sports can begin competition on Sept. 10, and ACC programs will play conference schedules meeting the NCAA minimum number of games. For field hockey and soccer, that's six games. Volleyball will play 10 ACC matches.
The limited number of events helps with the return of Olympic sports. For example, soccer teams could play a minimum schedule of six matches, reducing travel and leaving a few months to schedule just a handful of matches. A light schedule can incorporate flexibility when it comes to cancellations or postponements.
Cross country events vary by what each school can schedule safely. There's no minimum number of races. The conference championship for cross country includes all 15 ACC programs and will be held in North Carolina on Oct. 30.
Field hockey and both ACC soccer championships will be held in early to mid-November.
Golf, tennis, rowing, lacrosse, softball and baseball competitions are canceled for the fall. These programs can practice in the fall, assuming their university deems it acceptable.
The bottom line
When students return to Grounds, it's close to impossible for UVa student-athletes to remain in "bubbles" like the WNBA, NBA and NWSL have done with reasonable success. With football, volleyball, field hockey and soccer all deemed high-risk sports by the ACC, putting together a safe fall sports season is an incredible challenge.
The ACC announced its minimum standards for testing, but even those don't guarantee a safe fall season.
Fall sports begin competition in about a month, and it remains to be seen if any of UVa's athletic programs will actually be able to safely put together a 2020 season.
Be the first to know
Get local news delivered to your inbox!