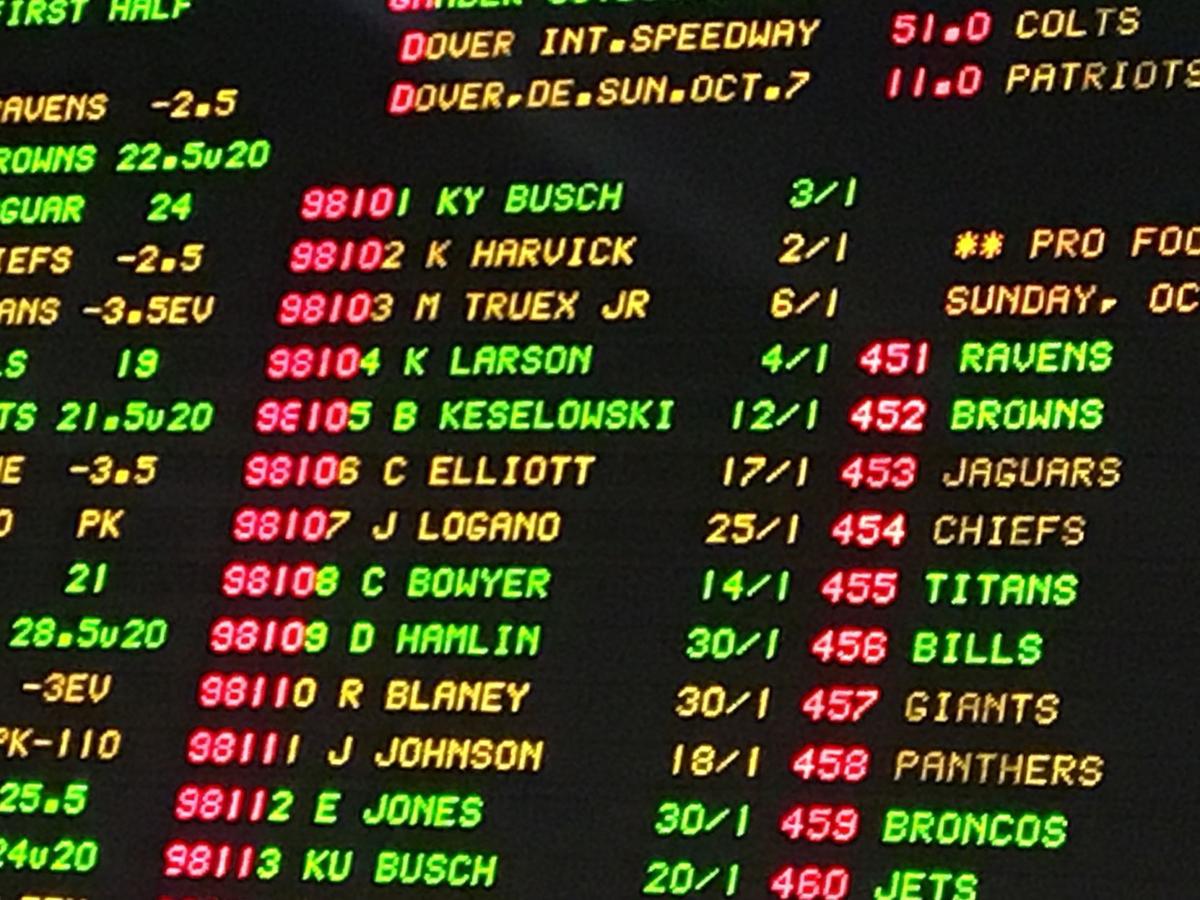 Sanctioned sports wagering in Virginia is ticketed to debut in 2021, almost certainly by college basketball's March Madness. Too bad folks won't be able to use those legal outlets to bet on their favorite state teams.
The Virginia Lottery approved final regulations to govern sports gambling Tuesday, and with license applications due next month, officials believe operators could open online business in January. That's just in time for February's Super Bowl — sports betting's version of Black Friday and Cyber Monday — and well before the NCAA basketball tournament.
Signed by Gov. Ralph Northam in April, Virginia's sports gambling law permits wagers on college games, except those involving state schools. New York's and Illinois' sports betting guidelines have similar provisions.
Neither is necessary. Nor is the ban on all college sports betting that many administrators and university presidents want Congress to pass.
Virginia lawmakers debated the college issue during their sports wagering deliberations earlier this year. A Senate bill would have permitted bets on all college sports, while the House version that prevailed included the restriction on Virginia teams. Both were well-intended.
Those who oppose legalized college sports gambling believe it would undermine the integrity of competition. They envision nefarious characters prying athletes and/or their classmates for information on player availability. They fear athletes losing bets and, in desperation, rigging outcomes to win subsequent wagers.
Moreover, administrators such as ACC commissioner John Swofford have said that athletes have shared their concerns about backlash from gamblers, in-person or on social media, who blame them for lost bets.
During a July congressional hearing on protecting the integrity of college athletics, Pittsburgh athletic director Heather Lyke told the Senate Judiciary Committee that the ACC's 15 presidents unanimously oppose all sanctioned gambling on college sports.
"While we understand that gambling on professional sports is here to say," Lyke testified, "we urge Congress to directly address gambling on intercollegiate athletics and prohibit it."
Such was the case until 2018, when the U.S. Supreme Court overturned the federal Professional and Amateur Sports Protection Act, a decision that allows states to craft their own standards. According to the American Gaming Association, 22 states and the District of Columbia have since adopted legal sports gambling, with Maryland, Louisiana and South Dakota to vote on ballot initiatives in November.
Eighteen states, plus the District, are operational, and none has encountered an apocalypse that threatens public confidence in on-the-field results. And with sanctioned sports books operating as watchdogs, here's guessing they won't.
"The gaming industry and sports governing bodies share a significant mutual interest in upholding the utmost integrity of all sporting events," AGA president and CEO William Miller said in prepared testimony to the Senate Judiciary Committee. "Even the mere suggestion of scandal poses the risk of inflicting significant damage to our operators' brands and reputations, as well as real economic harm if a bet is placed on an event if the outcome is fixed.
"That is why our industry takes sports integrity very seriously, deploying innovative technologies and other resources available to track legal wagering activity and identify suspicious activities."
Opposition to sports gambling, on college or professional contests, lament the easy access that legal sports books provide, online or in person. But most reasonable folks would concede that illicitly betting on sports is equally simple and involves minimal legal exposure.
That's why I don't quite understand the sincere concerns college sports officials voice about wagering on their games. The downsides already exist and aren't going away.
The AGA estimates that gamblers illegally bet $150 billion annually on sports, and Miller told lawmakers that sanctioned sports books have generated $198 million in tax revenue since the Supreme Court overturned PASPA two years ago.
I'm not stumping for betting windows at Lane Stadium, the Siegel Center or John Paul Jones Arena, but the NCAA and its member schools would be wise to follow the leads of professional leagues by welcoming legal gambling and negotiating a cut.
Full disclosure: I placed my first sports bet before my 10th birthday, with my dad's barber. I lost 10 cents on an NFL game, and it hurt. But other than a grid pool at the family Super Bowl party, my gambling days are long over.
Legions feel otherwise, and the AGA's Miller told senators that college events account for approximately 30% of legal bets on football and basketball.
"The past several decades under PASPA have also demonstrated unequivocally that demand will be met by the illegal market," Miller testified. "Therefore, the real public policy question is not if sports wagering will occur, but whether it should take place through legal or illegal channels."
David Teel reports for the
Richmond Times-Dispatch.
Be the first to know
Get local news delivered to your inbox!