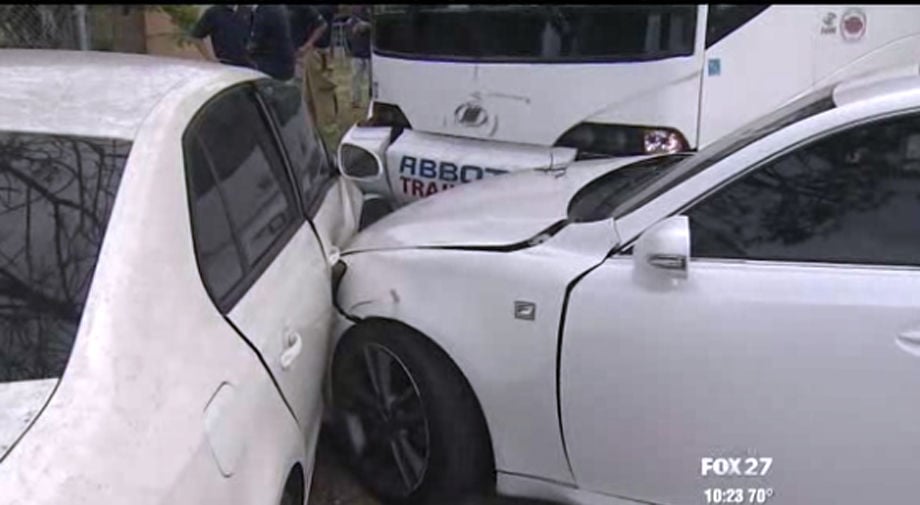 Virginia baseball players and staff members came away without injury following a bus crash in Miami late Thursday afternoon.
The Cavaliers, in town to take on the Hurricanes this weekend, were traveling just after 6 p.m. from the Miami airport to their hotel when their bus driver — associated with Abbott Trailways in Roanoke — experienced a medical condition that caused him to go unconscious, Miami Fire Rescue spokesperson Lt. Iggy Carroll said.
Carroll said the incident caused members of UVa's coaching staff to "jump into action" as the vehicle was approaching a busy intersection on U.S. Route 1.
"As they attempted to gain control of the bus and get the driver out of the seat," Carroll said, "the bus started veering off to the side of the road, hitting three parked cars and a motor scooter before coming to a stop after the vehicle that it hit became wedged between a tree."
Carroll said the impact caused a fence post to penetrate the bus' windshield "right where the coaches were originally sitting, blocking the exit door."
Employees from a nearby car wash helped remove the post, allowing the bus door to open.
"That's when," Carroll said, "we understand, the [UVa staff] initiated CPR on the driver until the paramedics arrived."
With Miami Fire Rescue on scene, the driver, labeled in critical condition, was eventually transported to Mercy Hospital.
"We talked to the players and the rest of the coaching staff," Carroll said. "They were all fine. They weren't injured, just a little shook up, I'm sure, after experiencing that ordeal.
"Them trying to gain control of the bus and bringing it to a stop definitely prevented a lot of other injuries that could have occurred to other people in that area. So we definitely commend them for their quick action."
UVa released the following statement: "The Virginia baseball team was en route from the Miami airport to its hotel late this afternoon when the driver of its bus suffered a medical emergency, leading to a subsequent accident. There were no injuries to members of the team and staff traveling on the bus. The team was moved to another bus and reached its hotel early this evening. Our thoughts and prayers go out to the bus driver and his family."
The Cavaliers practiced Thursday evening and will begin their three-game series with the No. 1 Hurricanes at 7 p.m. Friday.
UVa coach Brian O'Connor was not immediately available for comment.