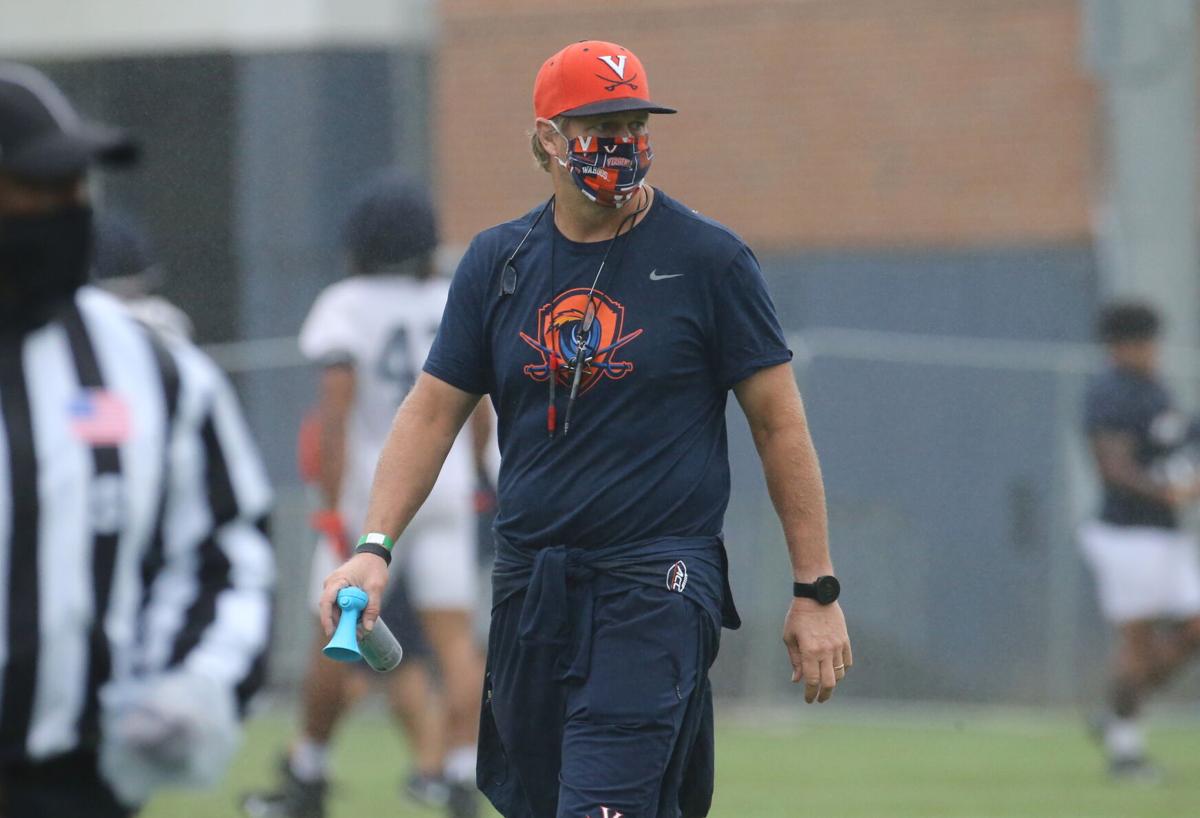 The Virginia football team believed its season opener would come Sept. 19 at Virginia Tech. The Cavaliers were following COVID-19 protocols and working out with the expectation of a season opener in Blacksburg.
"I shared with them that the game was postponed because of COVID-related issues at Virginia Tech, and yeah, they didn't take it well," Virginia coach Bronco Mendenhall said on his Tuesday radio show. "It was really hard for them, especially the upperclassmen. And let's face it, no one knows how long the season is going to go. The uncertainty has already shown with games being postponed, games being canceled, games being moved around, and what they were clear and hopeful for is they would get that one in, for sure."
The ACC plans to reschedule the Commonwealth Cup, but the game currently isn't on the Cavaliers' schedule. Virginia will open its season with Duke on Sept. 26, after a schedule change moved that game from Nov. 14 to Sept. 26.
"I appreciate the quick action taken by the ACC and the willingness of Duke University to reschedule this game," UVa director of athletics Carla Williams said in a statement. "It was really important for the players to have the opportunity to compete given the commitment they have shown each other and the program over the last few months."
Sharing the news of the postponement wasn't easy for Mendenhall, in large part because of how well the team has done following COVID-19 protocols. The Cavaliers haven't reported a positive COVID-19 test since July 24.
The postponement was beyond UVa's control.
Virginia Tech coach Justin Fuente reached out to Mendenhall after the postponement to apologize for the situation, which left both teams disappointed at missing out on the in-state rivalry.
"Justin called later that day, mid-morning I think, and was really professional and we had a great conversation about the unique challenges we face," Mendenhall said. "Some things we anticipated correctly, some things we underestimated, some things we overestimated. He was apologetic that they just didn't get it done or couldn't get it done for that time period or that game and we then kind of moved toward commonalities of what we're managing and this unique time."
Postponing left fans, players and coaches upset, but the decision was made with the health and safety of the student-athletes in mind. The Hokies didn't have an adequate number of players available for the game, and it made sense to for Virginia Tech to pause football activities to gain a better handle on the spread of the virus within the team.
Mendenhall emphasized on his radio show that he still spends much of his time during practice focused on virus protocols. He wants his team to limit potential exposure to the virus, and he's comfortable leaning on coordinators and other coaches to focus on the football preparation ahead of an upcoming season opener.
"There's nothing that matters more to me than the health and safety and just how happy and well my team is," Mendenhall said. "That's first."
UVa's players appear trusting of Mendenhall's recommendations, restrictions and guidelines. With zero positive cases within the program in nearly two months, Virginia's players have shown a commitment to limiting potential spread of COVID-19 within the team.
Despite a handful of changes for the season opener on UVa's fall schedule, Mendenhall believes following the protocols can still lead to a safe and successful fall football season. A few minor setbacks haven't deterred the Cavaliers just yet.
They're hopeful their efforts will be rewarded by safely completing the game against Duke.
"That's really what my team said is, 'There's a difference between saying you want to play and showing you want to play,'" Mendenhall said. "The protocols and the numbers really bear that out, and I'm not saying we're not at risk or that it couldn't happen to us because the actions of a few can really skew the numbers and have a team affected so quickly. To this point, our team has shown through diligence and the protocols, again with zero positives currently, that it can be done."
Be the first to know
Get local news delivered to your inbox!