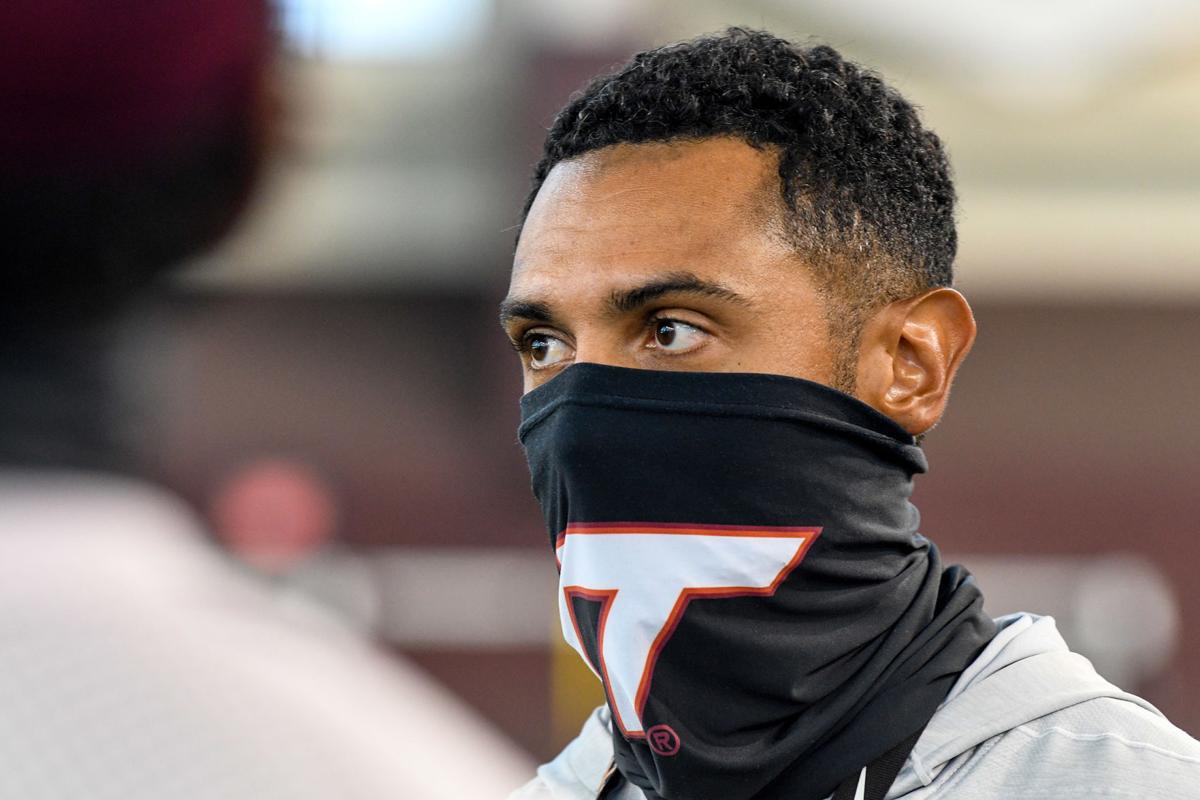 BLACKSBURG — Virginia Tech defensive coordinator Justin Hamilton's debut as the team's defensive coordinator will have to wait a little longer. 
Hamilton, who also coaches the team's safeties, won't be on the sidelines tonight. He's not cleared to participate at all, according to a team's spokesperson.
The team's first-year defensive coordinator didn't get off the bus when the team arrived at Lane Stadium on Saturday. 
Tech will also be without linebackers coach Tracy Claeys, defensive quality control coach Jack Tyler and defensive grad assistant Zach Sparber. 
Virginia Tech coach Justin Fuente said he had an emergency plan in place for just this scenario earlier this week. The team announced first-year defensive backs coach Ryan Smith would call the plays on Saturday. 
The Hokies didn't announce who was coaching the linebackers or safeties. 
"We're all in the testing group together," Fuente said earlier in the week. "I have a full chart of backup coaches, and then backups to the backups to the backup coaches. Some guys have to wear a couple different hats, but organizationally, if we find ourselves in that situation, we'll be fine."
Hamilton played for coach Frank Beamer from 2002-05, returned to Blacksburg in 2018 as the program's director of player development for the defense. Fuente pegged Hamilton as a "rising star" in the coaching profession when he promoted him to replace Ty Nix to coach the team's safeties.  
"Justin has earned this opportunity to lead our defense and our football team," Fuente said at the time. "Everyone in our program has a great deal of respect for him and his abilities. Coach Foster has reiterated to me on several occasions that Justin is ready for this next step in his coaching career."
"I feel the same way and am convinced he's exactly the right fit for this role at Virginia Tech. Coach Hamilton is a talented coach and recruiter with a deep passion for both the game and Virginia Tech. He possesses a great knack for connecting with our players. His voice carries tremendous weight on the field and in the locker room because he's worn that helmet and experienced many of the same things the young men in our program are going through."
Smith spent the 2019 season as JMU's safeties coach and pro scout liaison. The 29 year old assistant's previous stops included two seasons coaching defensive backs at Elon (2017-18) and two years as a graduate assistant at Penn State (2015-16) under James Franklin.
He replaced former Tech defensive backs coach Brian Mitchell, who was hired by N.C. State in the offseason. 
Mike Niziolek is the Virginia Tech football beat writer for The Roanoke Times. Follow him on Facebook and Twitter.
Be the first to know
Get local news delivered to your inbox!