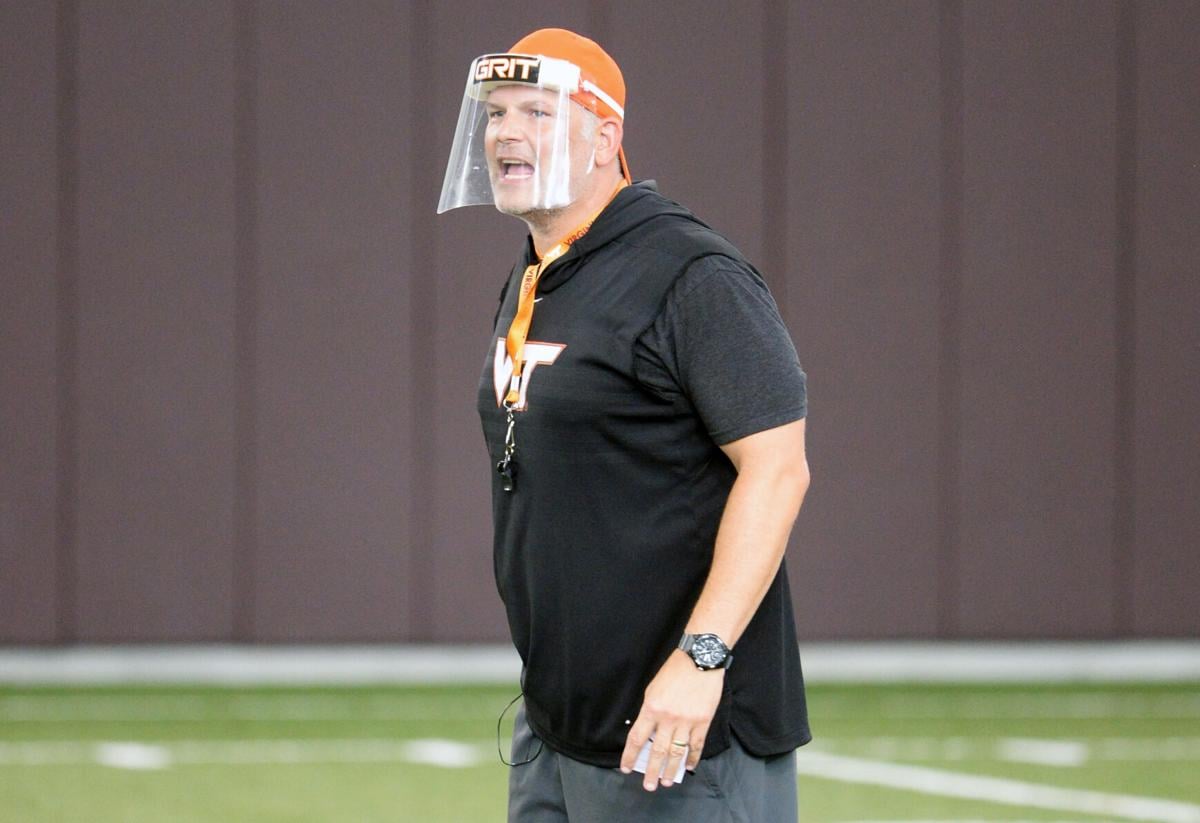 BLACKSBURG — Virginia Tech coach Justin Fuente was as forthcoming as he's been since the COVID-19 pandemic began during a virtual press conference on Wednesday about how the virus is impacting his team.
He spoke openly about the program dealing with positive cases — the athletic department has declined to release the number of positive cases for student-athletes during the pandemic — and called it a growing concern given the spike in cases across Blacksburg.
"We are in line with them, before there were students we had very few cases," Fuente said. "I'm not blaming it on the students, it's just a fact. People have come back to campus and there's more people around, more traffic in the streets and longer lines at Chipotle. It's just part of the deal."
Virginia Tech reported 157 positive cases last week (1,012 tests) with a positivity rate of 15.5%. Tech president Tim Sands said in a statement the university would consider scaling back operations if the number of new cases doesn't "stabilize and decline."
Fuente said the majority of cases Tech has dealt with since players returned to campus back in early June have been asymptomatic. The team hasn't had a whole position group sidelined with COVID-19, but practice hasn't been business as usual.
"To say things change every day — who we've got, who you don't got — would be an accurate statement," Fuente said.
An outbreak at NC State already pushed back Tech's would-be opener by two weeks. The Hokies now open the season with Virginia on Sept. 19 at Lane Stadium. Fuente chose his words carefully when asked if the Hokies could have played the game this week with who was available for practice on Wednesday.
"What does 'can you play a game' mean?" Fuente said. "You know. Like can you line up 11 people out there? Can you field a team? Or how competitive is it going to be and what's it going to look like? Is it safe. Can we play? Yeah. But there's all that grey that I think it's hard to figure out right now and that's, answering that part of the question is maybe more important than can you. Yeah, you can. Absolutely. But at what point do we reach the point of it not being very safe."​
In a revealing comment, Fuente described himself as a "basket case" in dealing with daily uncertainty.
"I used to make a long term plan and make small adjustments as we went through fall camp…" Fuente said. "In this case, I've had three or four long term plans that have all been wadded up and thrown away."
But Fuente wasn't looking for sympathy.
It's been much worse on players — a point Fuente has made during every session with reporters since the start of fall camp. Fuente said the "mental strain" will only get worse for players in the coming weeks when they start getting tested three times a week for COVID-19.
"Three times a week somebody is going to tap them on the shoulder and say 'you are good to go' or, 'no, you need to come with me", Fuente said.
Fuente and company are trying to make the best of it, but the season-opener looms large. 
"Deep in your heart you know they are keeping score too," Fuente said. "That's the part about this whole thing, we aren't getting ready to play preseason games. We are getting ready to play real games that are going in the record book. There is a trophy on the line, and more than a trophy, but the first game is a rivalry game. We have probably the hardest schedule we've had."
Mike Niziolek is the Virginia Tech football beat writer for The Roanoke Times. Follow him on Facebook and Twitter.
Be the first to know
Get local news delivered to your inbox!