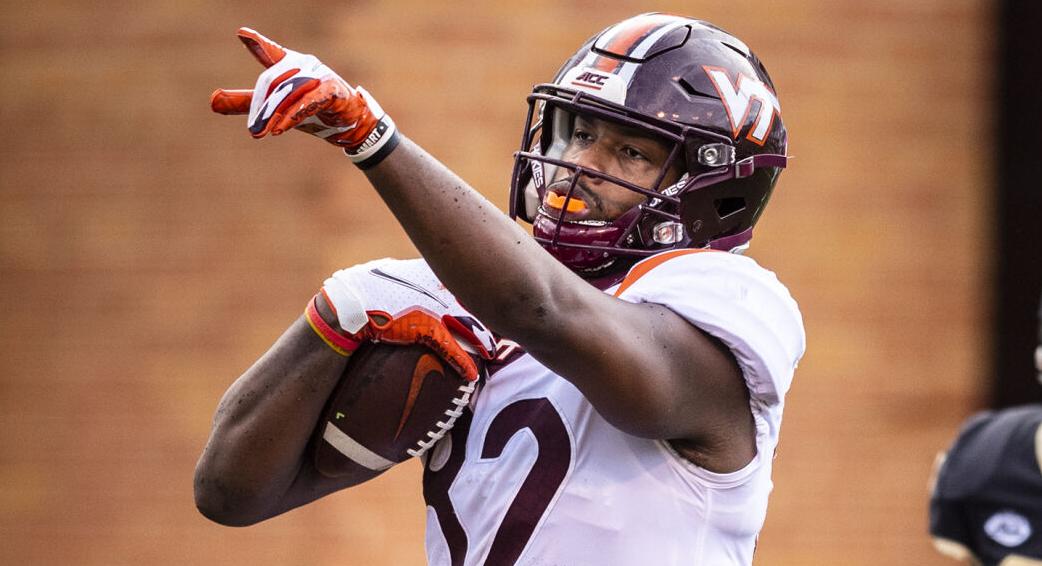 BLACKSBURG — Virginia Tech's roster has been in flux in recent weeks.
The Hokies have lost five starters on offense, four on defense and multiple specialists since the 2020 season ended. Those numbers could climb higher as the rest of the team's senior and grad transfers decide what to do in the coming weeks about the extra year of eligibility the NCAA gave all fall student-athletes.
Based on how the roster looks now, here's a look at the players who will determine how successful Tech is in 2021, presented in no particular order…
Tight end James Mitchell
Mitchell would have wowed NFL scouts at the combine. The 6-foot-3, 245-pound tight end has the combination of size, speed and athleticism that will make him some money at the next level when the time comes, and Tech is lucky to have him back in the fold.
He had 26 catches for 435 yards (16.7 yards per catch) with four touchdowns. He was second in the ACC among tight ends in receiving despite missing one game and only playing a handful of snaps in another.
Like his predecessor Dalton Keene, Mitchell can line up anywhere on the line of scrimmage and even drop into the backfield. He also made a point to improve his blocking, which was noticeable this season particularly on the perimeter.
But Mitchell coming back is a gift Virginia Tech can't waste.
He needs to be more of a focal point in the offense regardless of what opposing defenses throw at the Hokies. Mitchell averaged 2.7 touches a game (up slightly from his two catches per game last season) and was targeted 42 times.
Those numbers aren't great considering Tech's production in the passing game was mostly limited to three players (Mitchell, Tre Turner and Tayvion Robinson).
The Hokies would benefit if Mitchell gets a similar number of opportunities as Boston College tight end Hunter Long had this season. Long had 57 catches (on 89 targets) for 685 yards and averaged 5.2 touches per game this season.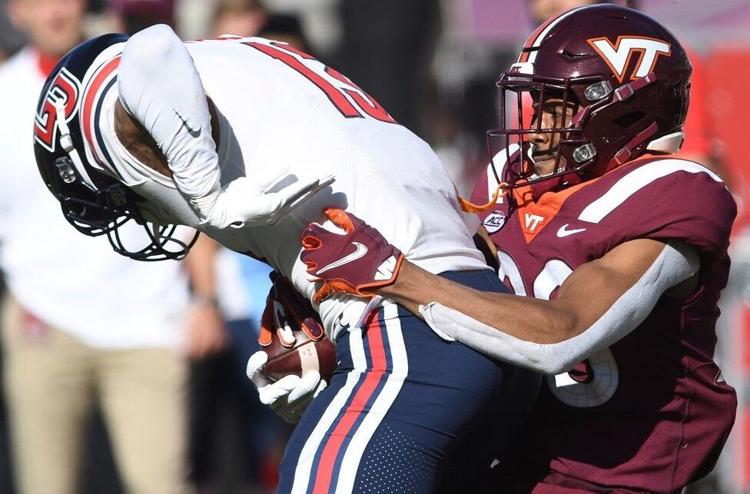 <&rdpStrong>Defensive back Jermaine Waller</&rdpStrong>
Fans had to be excited to hear coach Justin Fuente say Jermaine Waller would be back next for 2021.
Tech was supposed to have the best cornerback duo in the ACC this season with Waller and Caleb Farley, but they didn't play a snap together in 2020. Farley opted out before fall camp, and injuries limited Waller to two games.
Waller had offseason surgery on the foot injury he suffered in 2019. He wasn't 100% in fall camp and he didn't make his 2020 debut until a Week 3 trip to North Carolina. He was one of the few defensive backs available in the 56-45 loss and was at nickel when he suffered an arm injury.
He only made one other start — Tech's 38-35 loss to Liberty — the rest of the year. He had 10 tackles (eight solo) with a tackle for loss and one pass breakup. It wasn't the type of season Waller imagined when he was named to the preseason Jim Thorpe Award Watch list given to the nation's top defensive back.
Waller had 10 pass breakups and three interceptions in 2019 and was honorable mention All-ACC. According to Pro Football Focus, he was the second highest rated player on Tech's defense (behind Farley).
Tech gave up 266 passing yards per game (No. 108 out of 127 FBS teams) this season and had the worst passing defense in program history. Waller would have helped shore up some of those holes in the secondary.
The Hokies have lost plenty of talent since the season ended, but Waller's return leaves one less question mark for defensive coordinator Justin Hamilton going into next year.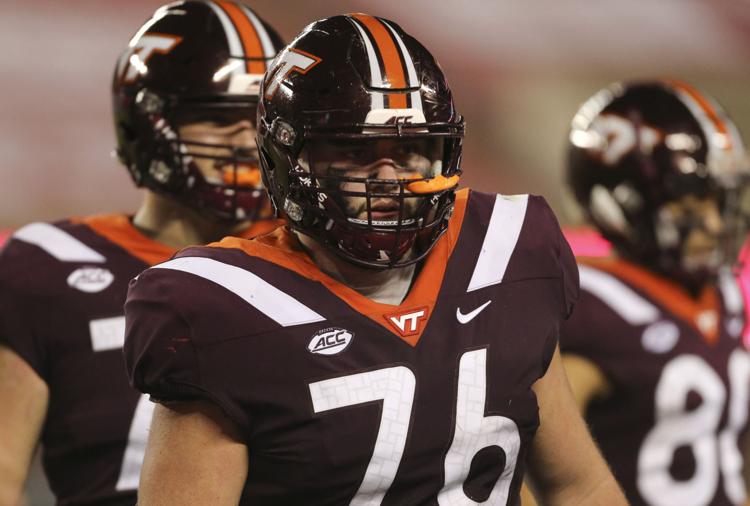 <&rdpStrong>Offensive lineman Brock Hoffman</&rdpStrong>
Hoffman was benched late in the game against Clemson after he was called for a chop block. He was called for an unsportsmanlike conduct penalty earlier in the game and Fuente had seen enough of the unforced errors.
Tech's starting center was called for a team-high eight penalties this season (three were for unsportsmanlike conduct), but those shouldn't overshadow his importance to the team's offensive line.
The Hokies are already down three players from their offensive line rotation with starting left tackle Christian Darrisaw entering the NFL Draft and Doug Nester (West Virginia) and Bryan Hudson (Louisville) transferring, but Hoffman, Lecitus Smith and Luke Tenuta give offensive line coach Vance Vice a strong foundation to build from.
Hoffman was one of the more durable linemen in the ACC. He started all 11 games and played a team-high 725 offensive snaps. The mean streak that made him prone to penalties wasn't all bad either. Hoffman's teammates credited Hoffman for establishing a toughness up front that's been missed in recent years.
The former Coastal Carolina transfer hasn't officially confirmed he's coming back next season — he could enter the NFL Draft — but Tech's coaching staff hopes he commits to one more season in Blacksburg.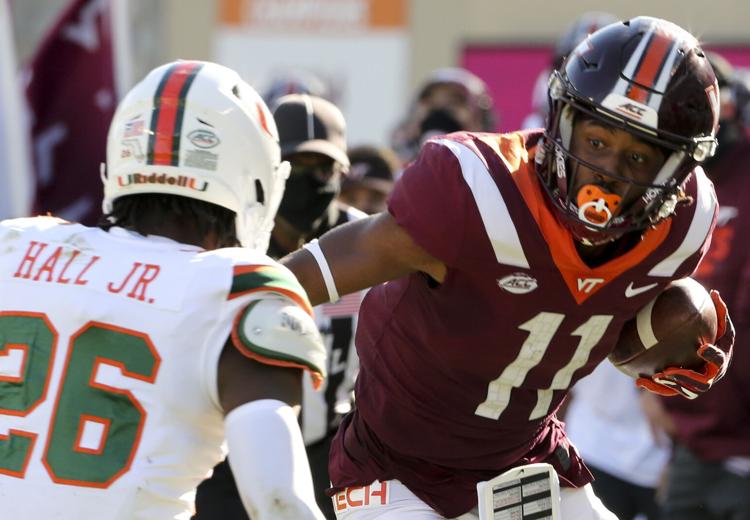 <&rdpStrong>Wide receiver Tre Turner</&rdpStrong>
Turner has been right on the cusp of a clear breakout season each of the last two years. He burst onto the scene with 26 catches for 535 yards with four touchdowns plus another 100 yards rushing as a true freshman.
He's been productive the last two seasons — he lead the team in receiving in 2019 — but Turner himself envisioned earning All-ACC accolades after his freshman season. There have been injuries — mostly minor, but ones that forced him to miss some time — and Tech's inconsistent play at quarterback hasn't helped matters.
Turner played his best football with longtime friend Hendon Hooker in the lineup. He will have to develop a similar chemistry with Tech's remaining scholarship quarterbacks including Braxton Burmeister, who will head into the spring penciled in at the top of the depth chart.
According to Pro Football, Burmeister was 6 of 16 (37.5%) on throws of 20 yards or more with 252 passing yards (he only targeted Turner downfield three times in four starts). 'Big Play' Tre needs to live up to his nickname next season if the Hokies are going to compete in the Coastal.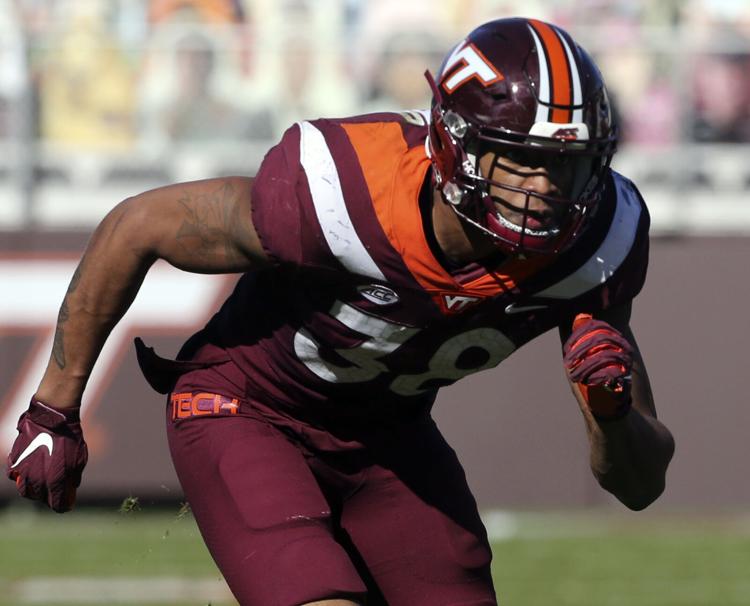 <&rdpStrong>Defensive end Amare Barno</&rdpStrong>
Imagine how Barno will look at defensive end with a full offseason of development.
Barno transferred from Butler Community College as an outside linebacker in 2019. He was a standout scout team player that fall and got some late-season reps on special teams that impressed the coaches.
The COVID-19 pandemic prevented the defensive staff from getting a chance to evaluate players in the spring, but new defensive coordinator Justin Hamilton knew he didn't want Barno's size and athleticism to go to waste.
Barno accepted a move to defensive end right before fall camp, but a hamstring injury and Tech pausing practice in September limited his practice reps.
The move paid immediate dividends with Barno quickly establishing himself as one of the more disruptive defenders on the team. He finished the season with 6.5 sacks, 16 tackles for loss, two pass breakups and two forced fumbles. He was honorable mention All-ACC, but deserved higher recognition.
The COVID-19 pandemic could once again disrupt spring practice, but Barno will still benefit from being able to study under co-defensive line coach Darryl Tapp and Bill Teerlinck over the next six months.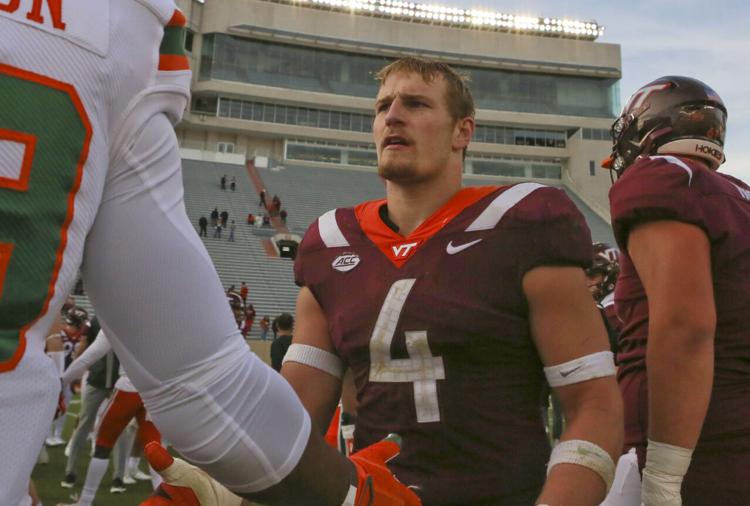 <&rdpStrong>Linebacker Dax Hollifield</&rdpStrong>
Fans had lofty expectations for Hollifield after Tech won a highly publicized recruiting battle with Clemson to land the four-star linebacker in 2018. He earned a spot in the starting lineup midway through his freshman year, but he hasn't quite reached the heights fans expected three years ago.
The 2021 season could be different.
Fellow linebacker Rayshard Ashby departing for the NFL will allow Hollifield to move full time to middle linebacker. Hollifield was always built more like a traditional middle linebacker and splitting practice time between the two positions this season seemed to hold him back.
The rotation Tech used at outside linebacker in 2020 with Hollifield and Alan Tisdale didn't help either.
Hollifield's best game of the season (according to Pro Football Focus) was when he played a season-high 89 snaps against Miami and had seven tackles, two sacks and one pass breakup. It was only one of three games that Hollifield played the majority of Tech's snaps at the position.
If Hollifield can have an All-ACC-caliber year it would help Tech reestablish its once formidable defense.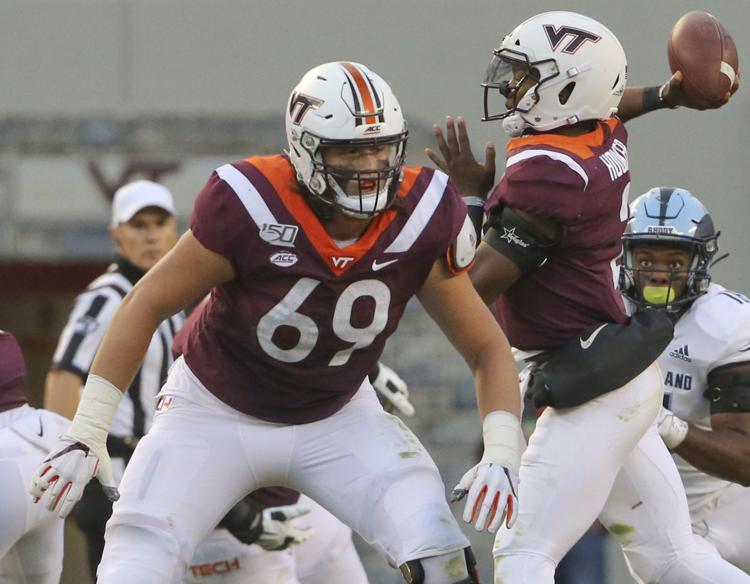 <&rdpStrong>Offensive lineman Luke Tenuta</&rdpStrong>
Tenuta is a strong candidate to replace Christian Darrisaw at left tackle. He's quietly anchored the right side of the line the last two seasons with 13 of his 14 starts coming at right tackle.
According to Pro Football Focus, he only allowed four sacks and five pressures this season and was the team's third highest graded player behind Darrisaw and running back Khalil Herbert.
Having a clear line of succession at such an important position on the offense should allow Tech's line to build on the success they had in the fall. The Hokies finished the season with the 10th-ranked rushing offense in the country (240.1 yards per game) with the running backs' 5.58 yards per carry ranked No. 9 in the country.
The numbers were a remarkable improvement over recent years with Tech finishing near the bottom third of the country in rushing for much of coach Justin Fuente's tenure. In 2019, Tech averaged 176.1 yards per game (4.1 yards per carry).
Tenuta, who redshirted in 2018 and bulked up adding more than 50 pounds to his 6-foot-7 frame, was a big part of that turnaround. He started taking the majority of snaps at right tackle in the back half of the 2019 season as Tech's ground game started showing steady improvement.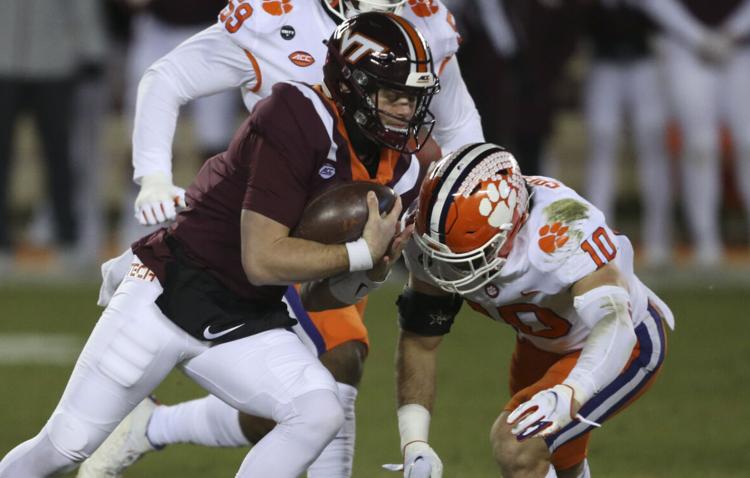 <&rdpStrong>Quarterback Braxton Burmeister</&rdpStrong>
Virginia Tech coach Justin Fuente hasn't discussed how he will handle the quarterbacks this spring, but anything other than an open competition (whenever the team returns to the practice field) would be a surprise given his history.
The quarterback competition will look quite different than the one the Hokies had going into 2020 when they had three quarterbacks with starting experience vying for the job.
Braxton Burmeister is the last man standing from that group. Barring an addition from the transfer portal, he will be a huge favorite to lock up the starting job.
He ended the season on a high note helping Tech regain the Commonwealth Cup with a 33-15 win over Virginia. Burmeister, who went seven weeks between starts, had 212 passing yards (68.2%) and two touchdowns in the win. He showed great command of the offense as the Hokies scored on all five of their first-half possessions.
Heading into the game, Burmeister earned plenty of respect from his coaches and teammates with the way he practiced for two months through a painful foot injury (three broken toes).
Burmeister will have a full offseason to establish himself as an offensive leader, and if he can lock up the job this spring (if the team is allowed to practice) he will benefit from getting the bulk of first-team reps this fall.
<&rule><&rdpStrong>Honorable mentions:</&rdpStrong> Lecitus Smith (OL), Jaden Payoute (WR), Tae Daley (S), Alan Tisdale (LB), Norrell Pollard (DT), Jalen Holston (RB), Tayvion Robinson (WR), Dorian Strong (DB), Chamarri Conner (DB)