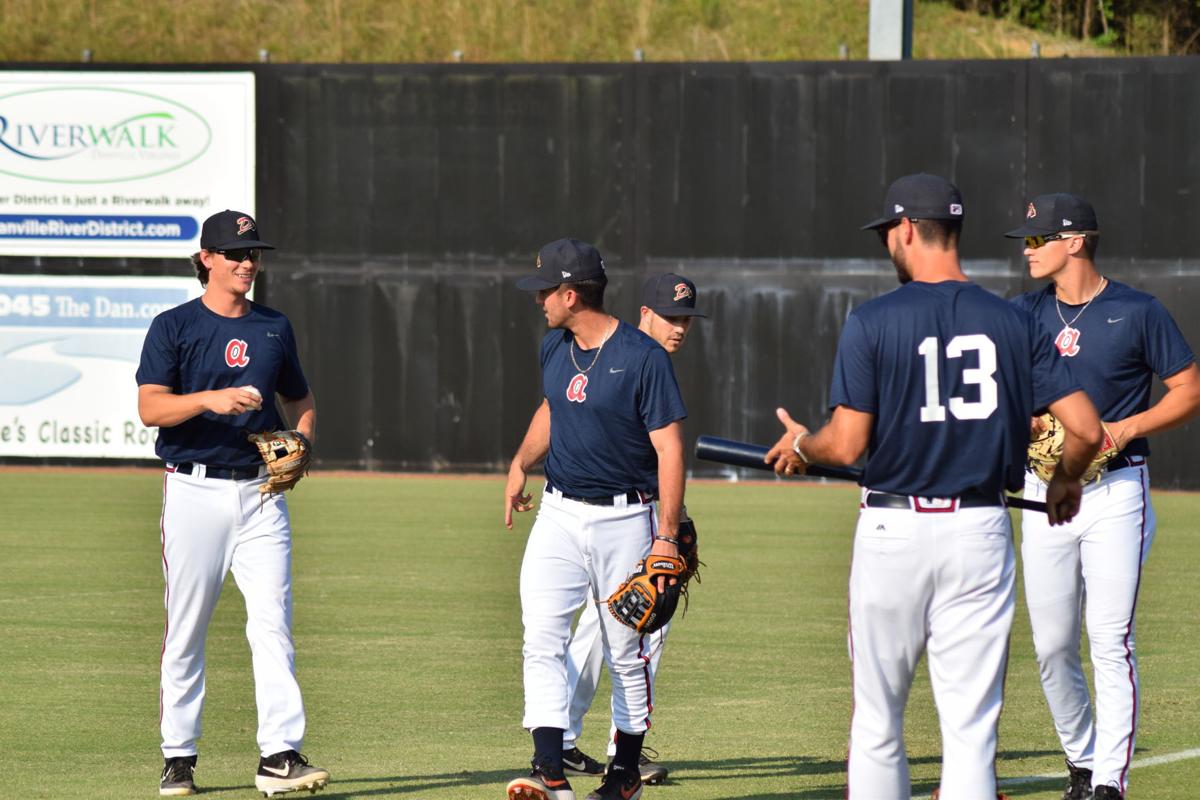 The Danville Braves are among a number of Minor League Baseball teams facing an uncertain future.
The New York Times reported in late November that Major League Baseball has proposed a drastic restructuring of its Class AA, Class A, short-season and rookie levels following the 2020 season — moves that would strip the Braves and 41 other minor-league clubs of their Major League affiliations.
MLB has argued that sweeping changes are needed to improve conditions and increase efficiency across the higher levels of Minor League Baseball (MiLB).
The Danville Braves are an Advance Rookie Affiliate of MLB's Atlanta Braves. The Florida Fire Frogs, Atlanta's Advanced Class A Affiliate, are also facing the threat of elimination, according to the NYT report. A representative of the Danville Braves said the team would not comment on the matter.
The current Professional Baseball Agreement extends through Sept. 15, 2020, meaning the upcoming season will go on as scheduled, said Jeff Lantz, the senior director of communications at Minor League Baseball. But the future beyond that still is murky.
"It's our goal to continue on with professional baseball as we know it with 160 minor-league teams," Lantz said. "Potentially [the talks] could go into next winter. We obviously prefer that it doesn't because it's not good for anybody's business. There is a lot of time left. We'd like to see it done before the end of next season, which is why we've started the negotiation process early."
Reasons for changeAccording to the NYT report, the proposed changes would allow Major League Baseball to increase player compensation at the higher levels of the minor leagues. At the same time, they eliminate the financial burden of paying and developing players at lower levels that are more unlikely to help the parent club in the future anyway.
The MLB Draft would also be cut in half — to just 20 rounds — under MLB's plan, which would reduce the player pool by about 600 and eliminate the need for about 20 minor-league teams.
Reducing the number of teams could also bring more geographic sense to the minor-league system. Affiliates could potentially be closer to parent clubs, and minor-league teams would have more sensible travel schedules and logistics.
As a counterpoint, Lantz said there are a number of realignment options that can be considered without cutting teams. He further advocated for low-level minor-league teams because they give some players the extra time they need to really flourish.
"Not everybody is a first-round pick out of college or played in the College World Series," he said. "Some of these guys need a little more time to develop, and that's where the short- season leagues are very beneficial."
If these changes do take place, MLB has proposed a Dream League solution — unaffiliated clubs with cut or undrafted players—which would be a far cry talent-wise from what having a Major League affiliation provides.
"That's, to me, more of a tougher sell for fans. You don't have that relationship, like, 'I might see the next Ronald Acuña Jr. tonight when I go to the game in Danville,'" Lantz said. "You don't have that in independent leagues."
The Pulaski Yankees were the only club of the 10-team Appalachian League to not be included in the NYT's reported affiliates up for elimination. Elsewhere in Virginia, the Bristol Pirates and Bluefield Blue Jays — both also in the Appalachian League— are on the chopping block as well.
The Appalachian League at large is susceptible to MLB's proposed changes because every team is MLB-owned, Lantz said, and it's written in the league bylaws the Major League teams can shut down the league if they choose to.
The concept of the Dream League, or even a summer college wood bat league, would be devastating for Danville and similarly sized baseball markets, Lantz said.
"It would be really terrible for markets, particularly like the Appalachian League, to lose minor- league baseball," he said, citing the work these small teams do in their communities by visiting hospitals or raising money for charities.
"Those are the kinds of memories where if you don't have a minor-league team, you don't have that."
Effect on DanvilleThe Danville Braves have topped 30,000 in total attendance in each of the last four seasons, putting them in the top half of the Appalachian League in that span.
But that figure is likely to drop if the team loses its Major League affiliation with Atlanta.
An independent league or otherwise would not offer the same kind of financial boon to the area. Alexis Ehrhardt, the president and CEO of the Danville Pittsylvania County Chamber of Commerce, said the Braves have been "fantastic community partners" with their dedication to hosting group events for various types of fans and giving back to the city.
In 2019 alone, the Danville Braves gave more than $48,000 in goods and services to organizations that serve and help the city and county.
"They can be the heart of communities," Ehrhardt said. "It would be a shame too when you consider all of the positives happening in the region. Not just in Danville, but you think about the momentum around the Riverfront Park, the River District, exciting things happening in Pittsylvania County in terms of economic development activity. It would be a real shame to lose the Braves at such a critical time for our region.
"I think having the Braves in Danville has become a gathering place for many in our community, and it's another way to have pride in your community, and the Braves have certainly done a great job of bringing that out in us."
Danville Mayor Alonzo Jones said in a statement his office is monitoring the situation but has "not received official notification or confirmation that Major League Baseball is considering such a proposal."
As a result, Jones did "not want to speculate on the future of minor-league baseball in our city."
The statement concluded with the following: "Certainly, the Danville Braves are a local institution, having been part of our community since 1993. We have watched many great players, including Andruw Jones, Jason Heyward, Craig Kimbrel, Julio Teherán, and Mike Soroka, to name a few."
Next stepsLantz also cautioned against too much speculation of what the future holds for small-market baseball teams.
He said there is still much to be ironed out for the next PBA, a lengthy financial agreement that outlines large matters —such as the realignment of leagues — down to more minute details — like what percentage the Major League team pays for bats and balls. In between, MLB and Minor League Baseball representatives decide on per diem money for road trips, stadium standards, hotel accommodations, travel arrangements and the square footage in clubhouses, among many other topics.
"We went to the table early in hopes of getting a good start on this," he said. "It's really hard to say [when an agreement will be made]. It might be two months from now; it might be eight months from now, but I'm sure both sides are interested in getting a deal done that's beneficial for both sides with as few issues as possible."
Lantz also thought the possibility of a work stoppage was too early to consider.
"I think we're a long way away from that," he said. "I don't think there's any issue they've brought up that we can't correct or find some common ground on."
But the threat of eliminating nearly a fourth of Minor League Baseball's teams already has been made.
For Lantz, a former high school and college player, he considered the ramifications of taking baseball away from small communities.
He said driving five or more hours from Danville to the closest MLB ballpark in Washington, D.C., is not a viable baseball alternative for many families.
"That's how you grow baseball — kids watching baseball in markets like Danville and places like that," he said. "If you only have Major League Baseball, you'll have a hard time growing the game and getting kids to be passionate about it and wanting to play it and be a part of it. It's a big part of the future of the game, and I think it would be a mistake to take that away."
Parker Cotton is a sports reporter at the Martinsville Bulletin and Danville Register & Bee. You can reach him at (276) 638-8801 ext. 215. Follow @ByParkerCotton.
Parker Cotton is a sports reporter at the Martinsville Bulletin and Danville Register & Bee. You can reach him at (276) 638-8801 ext. 215. Follow @ByParkerCotton. 
Be the first to know
Get local news delivered to your inbox!