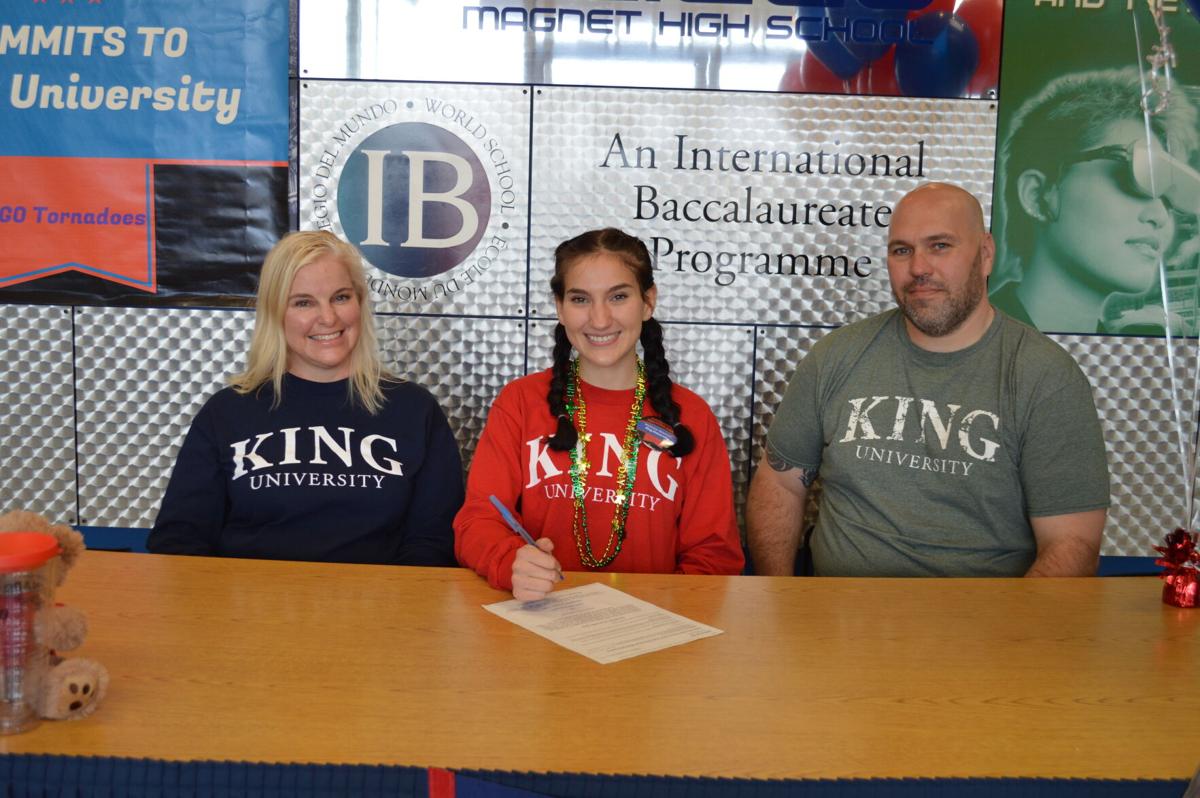 On the heels of running the anchor leg of the state champion 4x800-meter relay team, Galileo Magnet High School distance queen Morgan Whitley signed her scholarship acceptance letter this week to run cross country and track for King University located in Bristol, Tennessee.
When Whitley laces up the shoes for the Tornados this fall, she will become the third Galileo runner to compete at the collegiate level in four years.
"We are excited about Morgan" said her future coach, Nathan Meeuwenberg. "Morgan will be an immediate impact runner for us. She runs competitively and aggressively. I believe she is in for an exciting four years of college running."
The future Tornado runner has blown the competition away in many of her contests during the past three years. Recently, Whitley won the indoor track 1,600, 1,000 and 4x400 relays at the Region 1B/2B championships. She currently holds six Galileo track records in the 800, 1,000, 1,600, 3,200, 4x800 and 4x400 events.
As a cross country runner, she has run the school's five fastest 5K times, including her school record time of 20 minutes, 37 seconds.
Possessing a chest full of Virginia High School League medals at the regional and state championship levels, Whitley brings a winning mantra with her.
When asked what attracted her to King University, Whitley credited King's coaching staff and the Bristol area, but what really stood out to her was how the team "seemed like one big happy family."
Being surrounded by family and friends while signing her letter of intent, it is evident Whitley values those relationships.
"King University is getting the best end of this deal" said Galileo's Coach Bryant.
"Morgan is a workhorse, a leader and a real team player," Bryant said. "She has vaulted our program to the next level, and along with the other team captains, she is mentoring the younger members of the team to become future NCAA prospects themselves. I am excited for Morgan and eager to see her continue her development at the next level."
In the meantime, Whitley still has big goals set for this year. She is trying to lead the Galileo cross country team to their first state championship. As a track individual, Whitley has her eyes set upon trying to win state titles in the 1,600, 800 and 4x800 relay during the upcoming outdoor track season.
If Whitley is able to achieve all of her goals, she will have won five state championship rings, one for each finger.