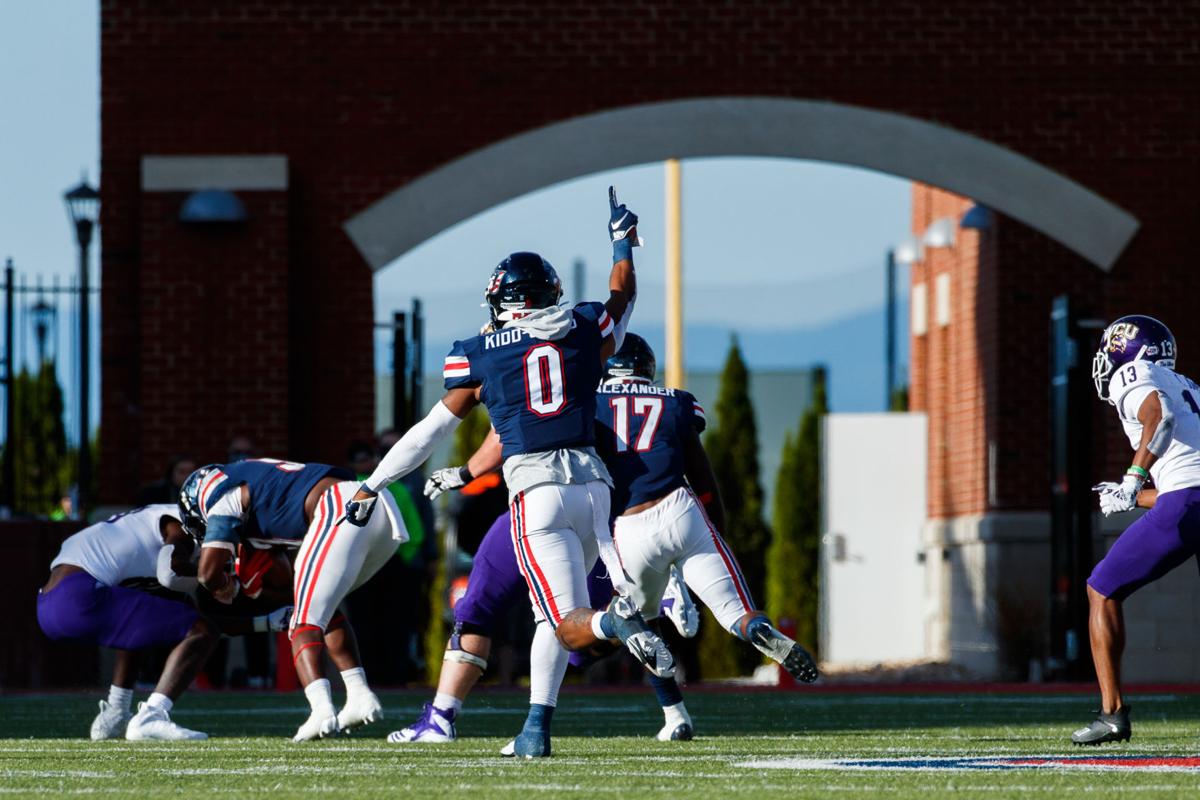 Most of the Liberty football roster had retreated to the Lane Stadium visitor's locker room to begin putting on their jerseys and pads in the early stages of warmups. The clock on the video board continued its countdown to kickoff. The sun splashed down on the field and the music blared through the loudspeakers.
Only one player remained on the field. Tim Kidd-Glass went through a vigorous test of his mobility, speed and reaction. He was deliberate during the extra 10 minutes he spent on the field and made sure there were no issues with a foot that took half of the 2020 season to heal properly.
It was an arduous recovery process for the Danville native. He went from being expected to contend for a starting job at rover during training camp to patiently balancing his recovery and making sure he was ready to return.
"Every day it was getting better and better. I just took it day by day and I was like, there's no reason to rush it because it was a serious injury," Kidd-Glass said Wednesday in his first media appearance since transferring to Liberty from North Carolina State. "It just came back and everything just worked out. My foot feels fine. Everything feels fine. Just managing it every day."
Kidd-Glass has played well in his limited snaps against Virginia Tech and Western Carolina the past two weeks as the staff has eased him back into game shape. His addition to the safety rotation as JaVon Scruggs' backup at rover will be needed when the No. 21 Flames (8-0) play N.C. State (5-3, 5-3 ACC) at 7:30 p.m. Saturday at Carter-Finley Stadium in Raleigh, North Carolina.
"He's been diligent in the process in terms of just treatment and staying on top of it and staying positive and staying plugged in," safeties coach Corey Batoon said. "That's been a testament to his work ethic and wanting to be successful on the field. He's a guy that when you have those types of injuries, it's real easy to plug yourself out and not know what's going on. He's been dialed in through the course of the year, so that when he did come back, from a mental standpoint, there were not any issues."
The 6-foot-1, 200-pound Kidd-Glass has played exclusively at rover in his spot playing time so far, and he recorded two tackles against the Hokies and one against the Catamounts.
Kidd-Glass did not specify the foot or the extent of his injury, but Batoon said he returned to practice about a month ago and was steadily eased back into shape so he could get into the rotation after the Flames' open week at the end of October.
"I was rooting for him the whole time. I could see how hard he was working to get back," defensive end TreShaun Clark said. "He was not going to take no for an answer. He wanted to come back as soon as he could, and I just see him every day pushing himself to heal faster and just to get back on that field. The day that he did come back, I was like, 'You're back! Let's just go get it!"
Scruggs played the majority of the snaps at rover through the first six weeks, and Kidd-Glass' return has helped stabilize the rotation. The two play at rover, while Cedric Stone has shifted to play primarily at free safety.
That move has allowed Marcus Haskins to move over to his natural position of cornerback.
"He's another integral piece to the puzzle in terms of, we're trying to play as many guys as we can," Batoon said. "Depth is always an issue, obviously, especially with the COVID this year. It's been something that we're very aware of is continuing to build our depth and making sure … you don't have that dropoff."
Saturday's game is a bit of a homecoming for Kidd-Glass. He played for the Wolfpack from 2016 through 2018, and he either started or was part of the rotation at free safety in his sophomore and junior seasons.
Kidd-Glass recorded 68 tackles, 4.5 tackles for a loss, one interception, one sack, four pass breakups and two forced fumbles in his time there.
He elected to enter the transfer portal Aug. 4, 2019, roughly one month before the season began. He revealed he never even considered Liberty when he was looking for a new school, but the Flames came to the forefront thanks to family.
Kidd-Glass grew up an hour south of Lynchburg in Danville and played at George Washington High School. The exception came in his junior year of high school when he attended Liberty Christian Academy, a school nestled in the shadows of LU.
The area was familiar to him. So were the people. Two of his cousins, Carl and Carlos Poole, were added to the LU rosters as walk-ons. Clark, who is a first cousin of the Pooles and said he doesn't think he's related to Kidd-Glass, was also on the roster and expected to play on the defensive line.
"It was totally a God thing. I think God honestly led me here," Kidd-Glass said. "I was praying about it a lot with my family. It was just strong here. I had one of my guys here and made some calls and stuff like that. I didn't plan to be here at all. That's why I said it's a God thing. I met the coaches and coaching staff, I fell in love with them, and the rest was just history after that."
Kidd-Glass announced he was transferring to Liberty on Aug. 29, 2019, and spent that season as a walk-on working with the scout team. He proved he belonged with the team and was put on scholarship following the season.
The spring practice session was cut short because of the COVID-19 pandemic, and then he lost time because of the foot injury in training camp.
He said what helped push him through the recovery process was being on the sidelines for games and seeing how well the team was performing. It gave him extra motivation to work his way back and return.
It just so happens his third game back is against his former teammates.
"At the end of the day, we've got one goal and that's to go down there and win. That's the focus point of the whole team," Kidd-Glass said. "It's not about me; it's about this team going down there and taking care of business. Our biggest focal point is just focusing on our job and completing our mission, which is going down there and getting the 'W.' … We're there to take care of business and focus on each other and focus on our team."