It was victory at last Saturday for the Falcons.
Galileo Magnet High School's boys cross country team won their first ever state championship in Salem.
According to junior Alex Gomez, the experience was "mind blowing."
This win is especially significant to Galileo because it is the first time a school from Southside Virginia has ever brought home the state title in cross country.
Leading up to the race, the pressure was on for the boys knowing this year the bullseye was on the backs of their own jerseys.
Junior Jackson Herndon felt "like there was a lot on the line" for this championship race.
Sophomore Neil Shroff, like most of the team, felt "really nervous, but also confident that we [the team] would win," due to the exceptional talent and dedication of every runner.
As the Falcons arrived at the course, they had the "all business mindset," Herndon said.
They knew their competition would be difficult to beat, but they believed in themselves and each other. One of the seniors' goals has always been to earn a state title in cross country, and they delivered on their quest.
Senior Jamison Mantooth called the experience "euphoric."
"When we were announced as winners, I understood why I dedicated so much time to this sport," said Mantooth, who had been on the team throughout his high school career.
Galileo's 75 points outpaced second-place Lebanon by 11 points.
The cold and breezy conditions did not keep the Falcons from whisking away the competition. Junior Jackson Herndon led the pack of Falcons and finished 11th overall with a time of 17:25. Junior Alex Gomez followed closely behind and placed 14th with a time of 17:36. Both Herndon and Gomez earned individual medals and all-state second team honors.
Senior Cole Harbodin finished 20th with his time of 18:00. Fellow seniors Jamison Mantooth finished 23rd with a time of 18:08 and Dylan Kirk finished right behind Mantooth in 24th place with a 18:14 time. Other Galileo runners included Neil Shroff (48th) and Jack Lingle (72nd).
Galileo's strong pack of runners who stick close together is what sealed their victory.
Coach Mark Bryant said he was "overwhelmed with emotions for our seniors."
"The boys embraced a team approach all season and delivered in a big way," Bryant said.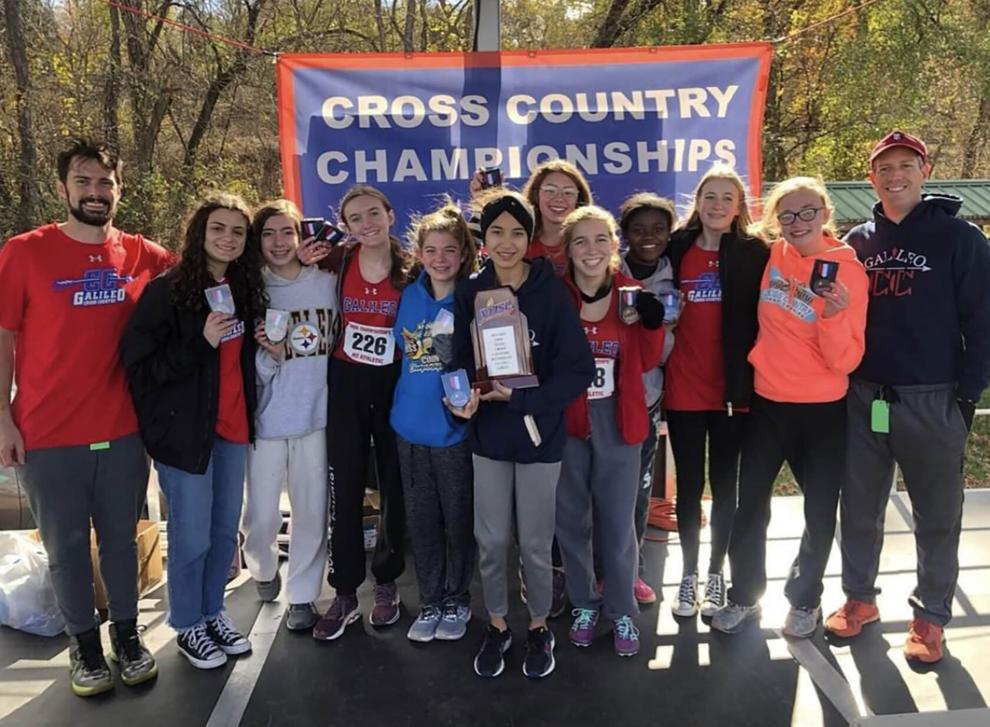 Not only were the boys successful, but the Lady Falcons were also able to place at the championship. The girls — a team made up of mostly freshman and sophomores — was the runner-up in the girls championship.
Sophomore Carol-Anne Garrett led the team's attack, placing sixth.
"I'm very proud of everyone," said Garrett, "we all worked hard for this moment and I am so happy to be a part of this team."
After Garrett (sixth), junior Camilla Rodriguez placed 16th with a 22:01 time. Sophomore Ava Wray placed 29th with a time of 23:02. Junior Rowan Kirk finished 38th with a 23:26 mark. Other notable runners included freshman Sophia Markowitz (49th) and Natalie Owen (55th).
The girls have had a successful year despite graduating four out of their top five runners from last year's team and having several valuable teammates injured this year.