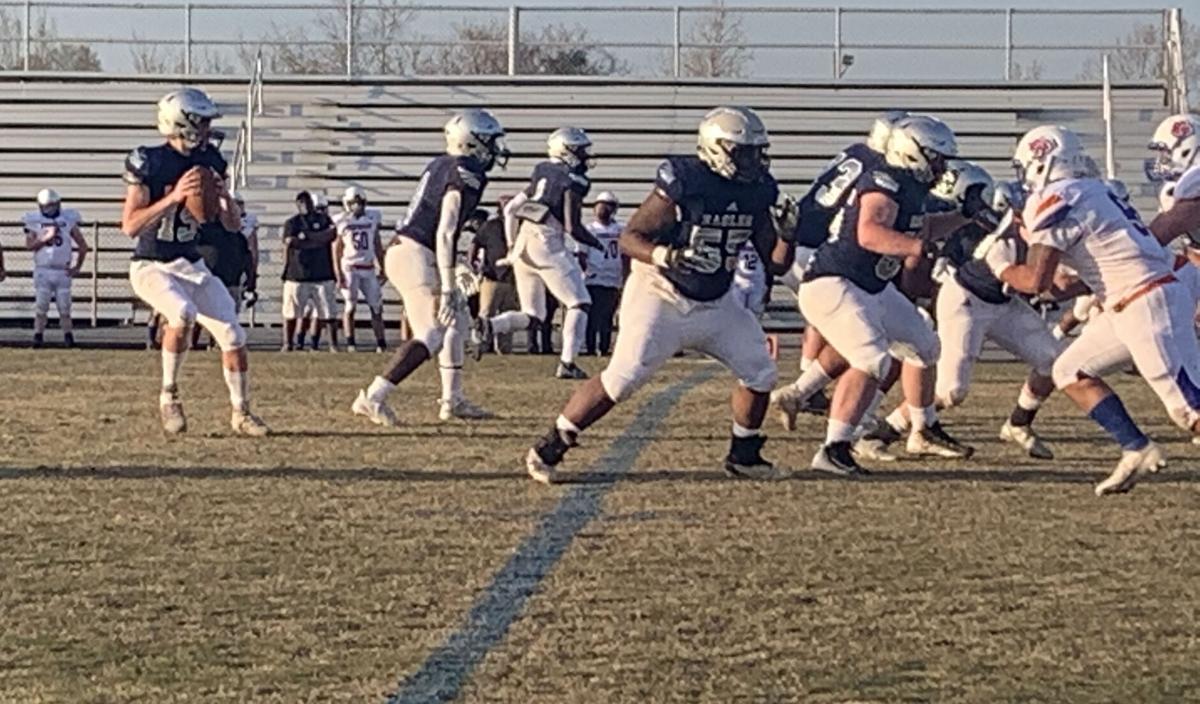 The George Washington football team found itself in an unusual situation Tuesday night taking on Bassett in Piedmont District action at J.T. Christopher Stadium.
Therefore, given the unusual date, it only made sense GW's scoring came from a few different places against the Bengals.
A week after scoring six touchdowns on the ground, all three of the Eagles' units found their way onto the scoresheet in GW's 48-20 rout of Bassett.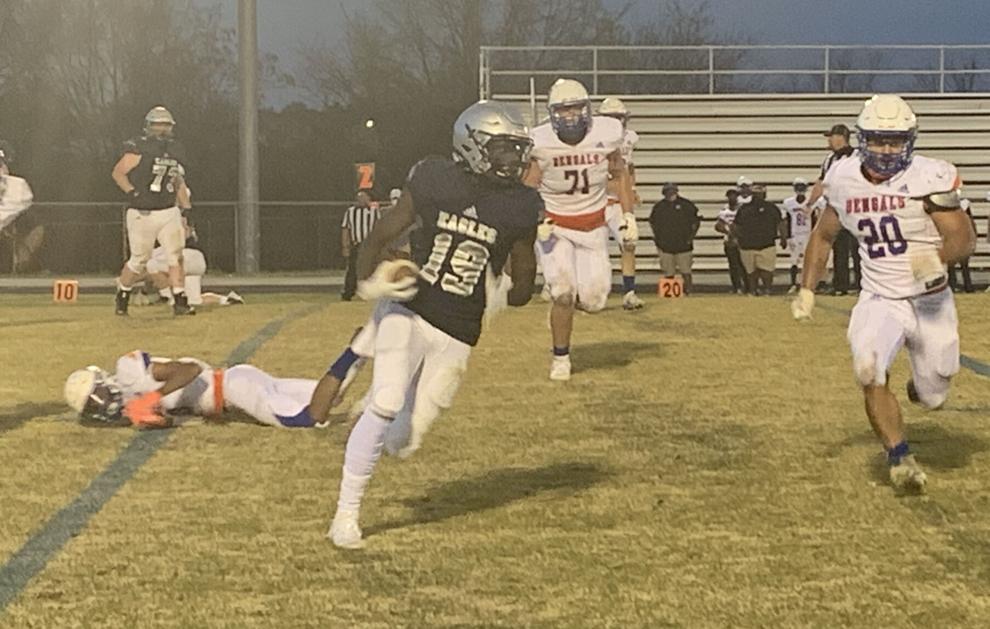 Junior Shyheim Watlington capped off a huge Eagles special teams play, returning a blocked punt for a 24-yard score, and junior Donavan Howard recorded a 26-yard interception return, both in the first half, to help GW (4-1, 4-0 Piedmont) to the easy victory.
"We're just really proud," said Jalen Strange when asked about the Eagles' complete performance against the Bengals. "I just love all my boys. We had to do what we had to do to win. We could have played better; we were supposed to give up 20, but everything happens for a reason."
Howard added, "We just needed to make sure we stayed in the game and never lost track of what we came out to do."
Bassett (2-2, 2-1) shook off a sluggish first half that saw the Bengals down 34-7 at halftime. Greg Carter helped Bassett start the third quarter on the right foot, returning the opening kickoff 35 yards to give the Bengals the ball at their own 40-yard line. Nine plays later, Ja'ricous Hairston finished off the nine-play, 60-yard drive with a 14-yard touchdown pass to Darius Hairston that made it a 34-14 game with 7:29 left in the third.
On its next possession, Bassett put together an eight-play, 86-yard scoring march that ended on Hairston's 1-yard scamper that made it a two-possession ballgame with just under three minutes left in the third.
In the end, all Bassett did was awaken a sleeping giant as junior quarterback Jeb Byrnes found Howard for a 70-yard strike down the right side, Byrnes' second scoring pass of 60-plus yards on the night, to steal the wind from the Bengals' sails and take a 41-20 lead with 1:31 left in the period.
"It was just running the plays we work on in practice and execute on the field and making sure we're in the right spot to do what we have to do," Howard said of his catch.
The rout was on from there as GW forced a turnover on a forward pass on the Bengals' next possession. The Eagles' offense took advantage, marching 68 yards for a score on senior Willie Edmunds' 4-yard run that made it 48-20 with eight minutes left in the contest.
In all, GW scored two unanswered fourth-quarter touchdowns to seal the win.
"We knew coming into the game they thought they could have us because we had three games in eight days and everybody was coming for us because they knew we had the most on the line but we came out hard in practice, put it together, didn't give up, made sure everybody's energy was up," said Strange.
GW started the game strong, moving the ball 63 yards downfield on its first play when Byrnes found senior Sha'Kobe Hairston on a flea flicker that made it a 7-0 game early in the first.
It was Edmunds' turn next as he scored his first of two touchdowns from 11 yards out to make it a 14-0 game.
Watlington pushed the Eagles' lead to three possessions when he jumped on a loose ball from a blocked Bengals punt and took it to the house for a 24-yard score that made it a 21-0 ballgame.
Keshaun Valentine's 82-yard kickoff return got Bassett on the board midway through the second quarter to help the Bengals pull within 21-7.
However, junior Jakobe Dixon responded with a 22-yard rushing touchdown to make it a 27-7 contest and Howard's 26-yard interception return for a score gave the Eagles a 34-7 cushion.
GW, which earned either the second or third seed for next week's Region 4D playoffs, will have to wait a few days in order to find out if it will play one more game, its second matchup against Halifax County on Friday.