A bright, full moon settled in over J.T. Christopher Stadium before the start of George Washington's Region 4D semifinal matchup against No. 3 Western Albemarle on Friday evening.
The full moon proved fitting as No. 2 GW played like werewolves, recording five total turnovers — including two on the Warriors' first two plays from scrimmage — on its way to a 40-8 route of No. 3 Western Albemarle.
The Eagles advance to their second consecutive regional championship game where they will once again face No. 1 Salem on the road either next Friday night or Saturday afternoon.
On a chilly night at the Eagles' Nest, GW's defense didn't waste any time bringing the heat. After a long return on the opening kickoff gave the Warriors the ball in Eagles territory, Western Albemarle fumbled on its first play from scrimmage and sophomore Kamori Dixon jumped on the loose ball and took it back for a 53-yard touchdown that gave GW a quick 7-0 lead.
"Good coaching, every week in practice, we practice the scoop-and-score," Dixon said. "Coach [Robertson] has told us so much about the scoop-and-score and the first play of the game is a scoop-and-score. We put the first six points on the board and that right there was a game changer because we got the motivation going from there."
Déjà vu was the theme on the Warriors' ensuing drive as the Eagles once again punched the ball loose and senior Will Daniel recovered it, giving GW two turnovers on two Western Albemarle plays.
"I think it's really important we started the game hot like we did," Daniel said. "Coach was telling us in the defensive meetings before the game that everybody has a plan until you punch them in the mouth, and I think we gave them a really good punch in the mouth on those first two possessions that knocked their game plan off and they didn't know what to do from there."
Daniel was right as the two early turnovers set the tone early and the Warriors never recovered.
"By the time we got the turnovers and fumble recoveries, that put them out, they just gave up," Dixon said. "They didn't want to play us anymore. They really just gave up. By the time the third quarter rolled around, we had put enough points on the board and then we came back out on defense and shut them down again. They just didn't want (it) anymore."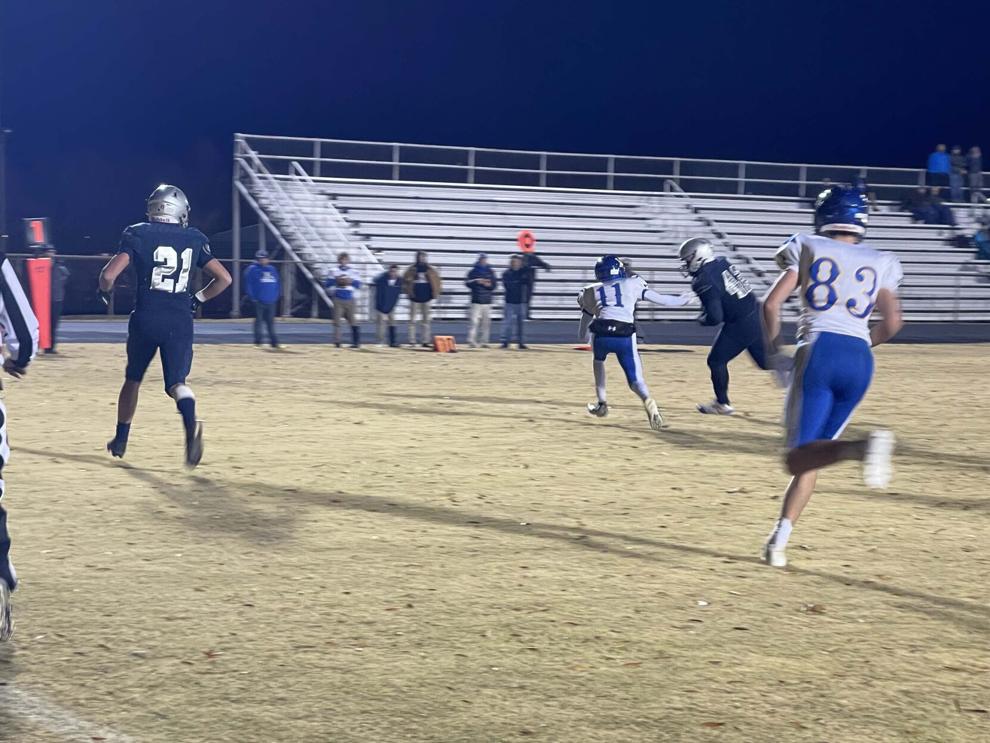 Altogether, GW (9-1) recorded five takeaways on the evening with three coming on fumble recoveries and the other two on interceptions. Seniors Tamarion Hawkins and Donavan Howard each recorded picks while Dixon, Daniel and sophomore Darrell Mabin each added fumble recoveries.
"I've got to give it up to the coaches, they prepared us great for the playoffs and as we land our keys we keep going and just make plays," Mabin said.
The Eagles' defense has forced eight turnovers in each of their playoffs games thus far after recording three last week in their rout of Orange County.
"It all starts in practice really, we've got turnover circles every Tuesday and we just keep getting better and better every day," Poole said. "We've got this strip drill where whenever somebody's got the ball, we strip it from the top and we've just been grabbing interceptions."
Mabin added, "Coach is always on our backs about the little things mattering, so he gets on us about the little mistakes and then we just make big plays on the field. We're constantly going over and over our plays to make sure we know them, and we watch a lot of film, so we can call the plays out during the game."
GW's defense wasn't the only thing cooking as the Eagles kept the Warriors off balance with a deadly mix of run and pass. Senior Jakobe Dixon paced GW's offensive effort with three rushing touchdowns, while Kamori and Poole each added touchdown receptions, giving senior quarterback Jeb Byrnes at least two touchdown passes in eight of his nine starts this year.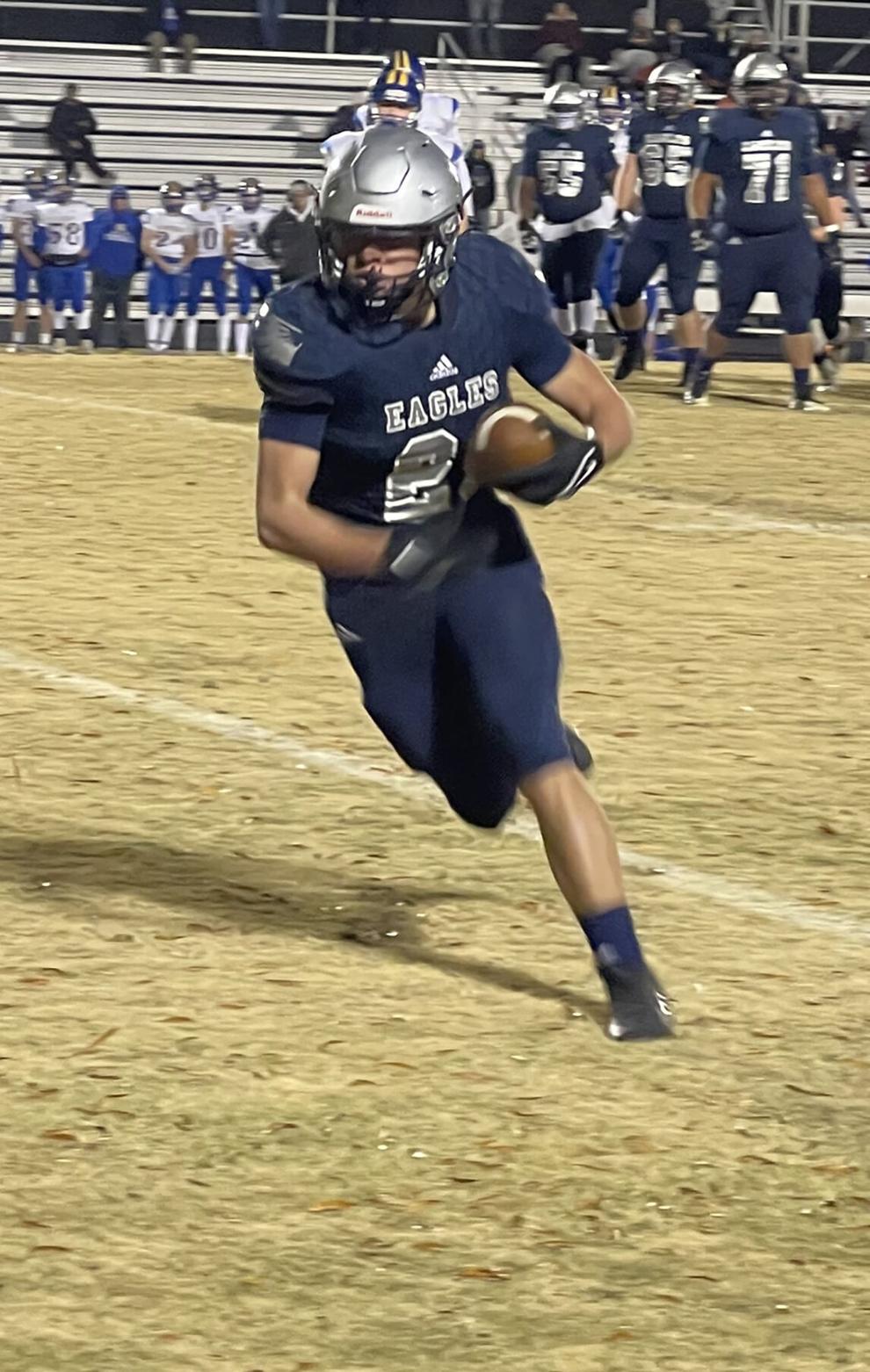 On GW's second drive of the game, head coach Nick Anderson and his staff mixed up personnel and senior Donnie Davis rewarded them with a 55-yard run down the right side. Jakobe Dixon did the rest of the work, following with a 4-yard touchdown run that gave the Eagles a quick two-score lead.
Continuing his big night, Daniel got involved on the offensive end on GW's third possession, hauling in Byrnes' pass that moved the ball down to the 2-yard line. Jakobe Dixon continued his scintillating performance on the following play with his second score of the contest, giving the Eagles a 20-0 lead with just over four minutes remaining in the half.
Western Albemarle (11-2) put together a bit of offense on its ensuing possession, moving the ball into GW territory, but senior Tamarion Hawkins sniped out the drive with his interception at midfield. Byrnes and Kamori Dixon repaid Hawkins' efforts on the Eagles' next play, teaming up for a 13-yard touchdown reception that gave the Eagles a 26-0 lead going into the break.
"I mean hey, when you got that dog in you, I messed up my wrist early in the game but like my brother always tells me, 'you got that dog in you,' so whether you're hurt or not, you go out there and keep going. It's Round 2 of the playoffs, there's a lot on the line so we just went out and executed," said Kamori Dixon.
"You just have to give 100% effort on every single play," Daniel added. "What's really helped me is that it's my last year, my last home game, every single play I wanted to play like it was my last which it could've very easily been if I had twisted my ankle, or something went wrong."
"It all started at practice, working hard," said junior Omarion Hairston. "We drop passes, we have to keep going and keep our heads up. Like in the game tonight, I dropped a few passes, but I kept my head up and kept going and we did what we had to do."
Junior Iunta Barksdale contributed GW's offensive dominance to good old fashioned studying.
"We studied so much film, we already knew what they were going to do so all we had to do was come out and execute, catch the ball, run the ball and stop the run and that's exactly what we did."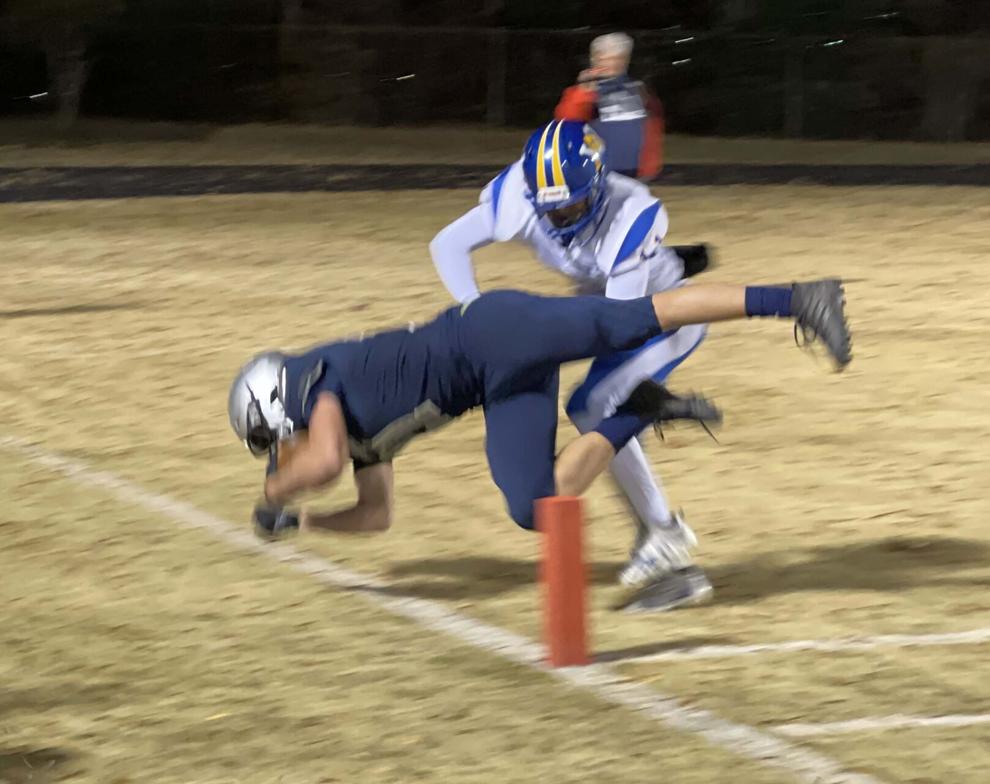 Football is a game of give-and-take and both of the Eagles' on-field units fed off each other against the Warriors.
"I think we really fed off each other because we really love one another," Daniel said. "If you're having fun seeing the defense having fun, it just makes the offense want to go out there and make plays and have fun. It's just everybody feeding off each other, it creates energy and nobody can stop it."
Kamori added, "We're more than a team, we're all a family. The team bonding adds a whole lot to it. We know each other, know how each other and works and we stay strong."
GW (9-1) didn't waste any time getting on the board to open the second half as Jakobe Dixon capped off his hat trick with a 7-yard score that gave the Eagles a 33-point cushion with 9:16 left in the third.
Western Albemarle strung together an impressive drive to open the second half, moving the ball into the red zone, but Howard stopped the Warriors in their tracks, picking off a pass in the shadow of the Eagles' goal line.
Working with a long field, GW answered with a sustained drive that saw the Eagles work their way down to the 1-yard line on Hairston's 32-yard reception from Byrnes. With GW holding a sizeable lead, Anderson turned to a little trickery, calling Poole's number for a 1-yard touchdown reception that made it a 40-0 contest with 26 seconds left in the third.
"I've (been) waiting for that play for three games now," Poole said laughing. "I was like, 'I hope this game we run it,' we ran it and it felt good. I thought I was going to drop it at first, but I came down with it, scored a touchdown and it was fun."
The Warriors avoided the shutout when sophomore Aidan Carver-Woodson hauled in a 10-yard pass and converted the 2-point attempt with 20 seconds remaining, leading to the final score.