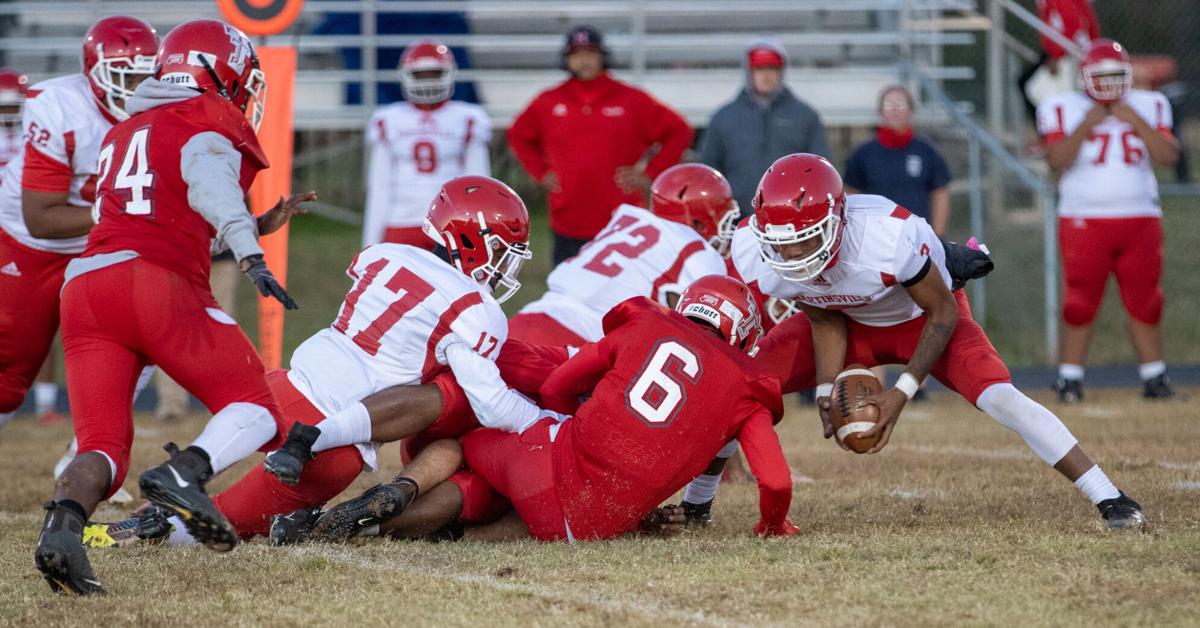 DRY FORK — As the final seconds ticked down in the hands of the Martinsville possession, deep into Tunstall's red zone territory, the Bulldogs spared the scoring opportunities and went into victory formation.
The Bulldogs (4-4) took care of business on the road, taking the 28-8 Piedmont District victory over Tunstall (1-7) on a cold, windy Tuesday night in Dry Fork.
Following the win, Bulldogs head coach Bobby Martin praised his players for their efforts, for playing as a whole and for coming together when opportunities arose. One of Martin's assistants continued the high praises and told the team that "it's the best game you all played all year"
"It's just a blessing. We hung together and we have been through a lot this year," said Martin. "COVID has been crazy. We just been through a lot of injuries, COVID and trying to keep everyone together, and they stayed together. I'm proud of them.
"I was just proud of the things that we asked them to do. That is what I was happy about," said Martin of his team's game plan. "They tried to do what we worked on all week. And it paid off for them. We are just trying to get better every day. That is what we talked about every day. Not just as football players, but as men."
Martinsville whipped away any of Tunstall's hopes of a comeback with just over four minutes left in third quarter. The Trojans took the ball on their own 30-yard line, where they attempted a lateral pass in hopes of getting open for a quick gain. But as the ball hung in the air, en route to the Trojans receiver, Bulldogs senior Jaylan Long came across, jumping up to intercept the ball.
With an open field ahead, Long would take it back with an interception, pushing Martinsville a 28-0 lead.
Prior to the interception, the Bulldogs added on to their lead midway through the quarter. Second and 12 on the Trojans 27, Martinsville junior quarterback Rashaun Dickerson connected to junior wide receiver Cash Hariston to make it a 22-0 lead. The score capped of a six-play, 49-yard drive that lasted three minutes.
Three minutes left, Tunstall was able to remove the goose egg on the board, refusing to go out scoreless on senior night. On the kickoff return, Trojans sophomore running back and linebacker Bricen Pool picked up the Bulldogs squib kick and quickly found open ground, taking to the Martinsville 20 to start the ensuing drive.
Tunstall would only need two plays to cash in. The first play being an 18-yard run from Poole that landed Tunstall on the Bulldogs' 1. With the help of Tunstall's offensive line, Poole would capitalize on the drive, punching up the middle for the rushing touchdown. Tunstall would go with the 2-point conversion
The Trojans did have another chance to cut the Bulldogs' lead in the fourth. Tunstall set up shop on their own 30 and slowly chipped away downfield against the Bulldogs' rushing defense. Tunstall's six-minute drive took them to the Bulldogs' 14, highlighted by a 38-yard completion from senior Damani Hairston to fellow senior Jeremiah Davis on second and 30. Hairston also connected to freshman Nash Glasscock for 25 yards, which landed them in red zone territory.
But a pair of incomplete passes and rushing attempt that failed to gain yardage forced Tunstall to go for it on fourth down. Tunstall would turn the ball over on downs, cementing Martinsville's victory.
Martinsville took a 14-0 lead with 2:50 left in the second quarter when Dickerson took the ball in his own hands on a quarterback keeper. Dickerson eluded a pair of tackles for the nine-yard rushing score.
Of the four wins this season for Martinsville, three of them have come on the road.
Both Martinsville and Tunstall will have only two days to prepare before taking the gridiron again.
Tunstall will finish their season on the road. They will travel to Gretna to take on the Hawks.
Martinsville will return home for its senior night to take on Patrick County Cougars. Both games are slated for 7 p.m. Friday.