DRY FORK — Tunstall boys basketball coach DeMarcus Morrison waited two years to coach his first game.
The Trojans made sure Morrison's wait was worth it Monday night in their season opener against cross-county rival Chatham.
Tunstall held the Cavaliers scoreless in the opening quarter as it surged to a 25-point lead and never looked back in its 74-29 win over Chatham, giving Morrison his first win as skipper.
"Humble beginnings," Morrison said. "A lot more work to be done but I'm so proud of the guys' effort. This is more of a marathon than a sprint, so we just need to focus on getting better each day. Yes, it was my first win but I'm more excited about how the community is pulling together and the growth of these young men. Our Tunstall family deserves success so we will continue trying to make them happy."
Morrison played under two legendary coaches in the late Chris Carter and Harry Johnson, meaning he's got quite a bit of experience with a press system, evidenced by the Trojans' efforts against the Cavaliers.
Playing in its first game in 647 days, Tunstall (1-0) showed little rust, recording six first-quarter steals and a slew of defensive rebounds on the way to a 25-0 lead at the end of the period. Sophomore Jamarcus Brown played a big role in the Trojans' early run, scoring six points while senior D'dric Rogers matched Brown's efforts with six as well. Tunstall took an 18-0 lead on senior Nick Hammock's 3-pointer with just over two minutes in the frame.
"It was just aggressive defense, just pressuring them and hustling," Brown said.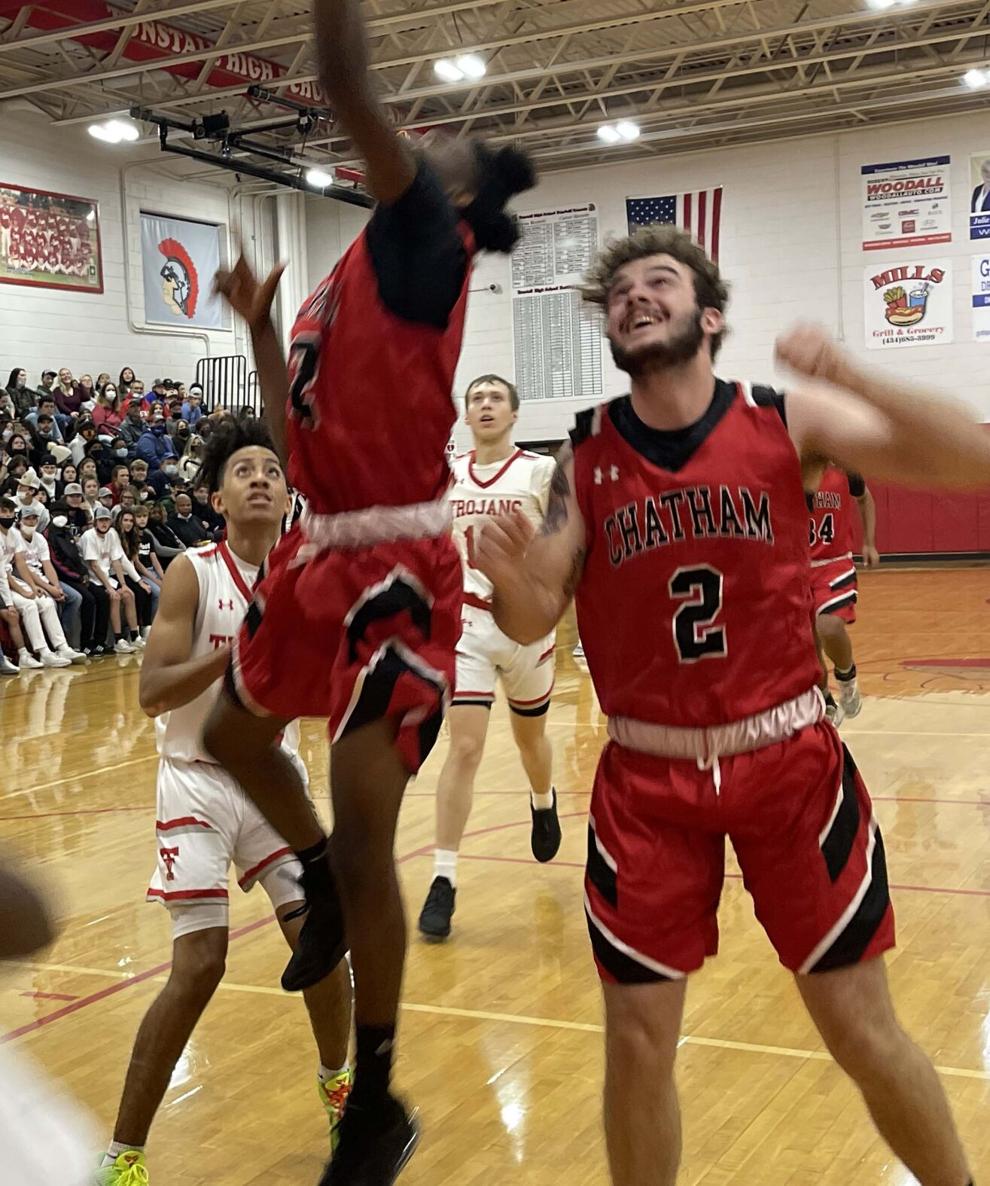 Sophomore Bricen Pool added, "It was just hustle, staying aggressive and scrappiness."
Rogers kept the aggression theme going, adding, "Press, aggression, we just came out with a lot of energy and hustled."
Chatham (0-1) got the second-quarter scoring started when senior Bryan Argueta knocked down a 3-pointer on the right side. Argueta's trey jumpstarted an 11-5 Cavs run that made it a 19-point contest with 4:10 left in the first half.
The Trojans responded with a 7-0 run of their own to rebuild their lead to 37-12 on senior Ashton Hammock's layup at the 2:36 mark. Senior Ethan Chivvis answered back with four straight points and Alex Owens closed out a quick five-point run with a pair of free throws.
Rogers led all scorers with 19 points while Brown and sophomores Jailyn Edmonds and Bricen Pool each added 10, giving the Trojans three players in double-digit scoring.
"Playing aggressive, a whole lot of layups, a lot of shots, had to get the team going and there was a whole lot of energy with it being the first game," Rogers said.
"It feels good, I just want to come out here and compete," Pool said of his performance. "Just come out here and compete and play with my brothers. It was just hustle, playing defense."
"Just driving the ball, they were kind of small so just driving the ball," Brown said.
Chiviss led Chatham with 12 points while David Hubbard finished with seven and Argueta added six.
Tunstall returns to the court Thursday when it hosts Hargrave Military Academy at 7 p.m.
Chatham hits the road on Wednesday for a non-district matchup against Prince Edward County at 7 p.m.