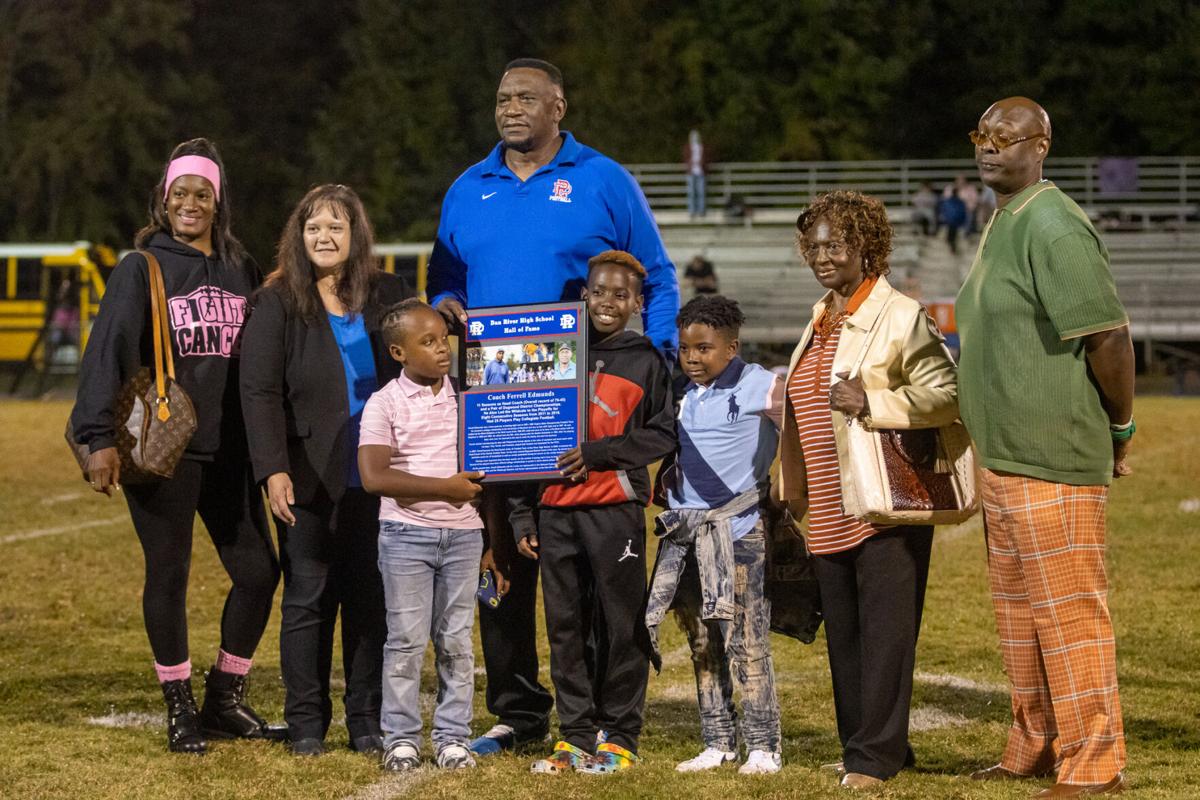 RINGGOLD — Former Dan River coaches Ferrell Edmunds and the late David Bullins and Dennis Saunders wore many different hats over the course of their coaching careers. From coach to chauffeur to equipment provider to mentor, all three have touched the lives of young men and women in many different aspects.
For their service, Edmunds, Bullins and Saunders were inducted into the Dan River High School Athletics Hall of Fame in a ceremony held at halftime of Dan River's Dogwood District matchup against Altavista on Friday night.
From Stanley Town Recreational Center in Bassett to the Blue Chips of the Danville youth league to Dan River's middle school program, Bullins — who lost his battle with brain cancer back in July — spent a half century coaching in the River City region.
While he no doubt enjoyed the on-field success — more on that later — it was the relationships he formed with his players that stood above the rest, and what would've made the night special if he was in attendance.
"It's great, dad coached for decades and the reason he did it was for the kids," said Allen Springs, Bullins' son-in-law. "He would've loved being out here tonight, seeing the kids he coached as youngsters out on the field and seeing their enjoyment playing the game, their love for the game, all the things he wanted to instill in them while he was coaching."
Throughout his career coaching Dan River teams in the youth leagues, Bullins recorded 509 wins, won 80% of his games and won 20 championships. He was inducted into the Pittsylvania County Sports Hall of Fame along with his wife, Connie, in 2014. And while Bullins would've no doubt relished in his accomplishments a bit during the ceremony, his humility wouldn't have allowed him to stay high for too long.
"I think he'd be really humbled," said Allison Springs, his daughter. "He'd be proud, but he'd also be humbled."
Saunders, who died in December, spent more than 20 years coaching basketball and football both in the county's youth league and at Dan River, while also serving in the United States Army. He took over the Wildcats' JV basketball program in 2013, leading them to two seasons with 15-plus wins and three with 10-plus.
He also served as an assistant on Dan River's varsity program starting during the 2012-13 season, including the 2013-14 program that posted a 25-0 record and won the program's first state championship. In addition, he was inducted into Pittsylvania County Sports Hall of Fame in 2015 for his contributions and service.
Like Bullins, Saunders was full of humility, and it was his desire to serve, not the wins and losses, that motivated him.
Despite her young age, Saunders' niece, Kayla Townes, took notice of her father's service to others and was glad it earned him a spot in Dan River history.
"I'm really proud of him and glad that he made such a different in people's lives, including mine," Townes said.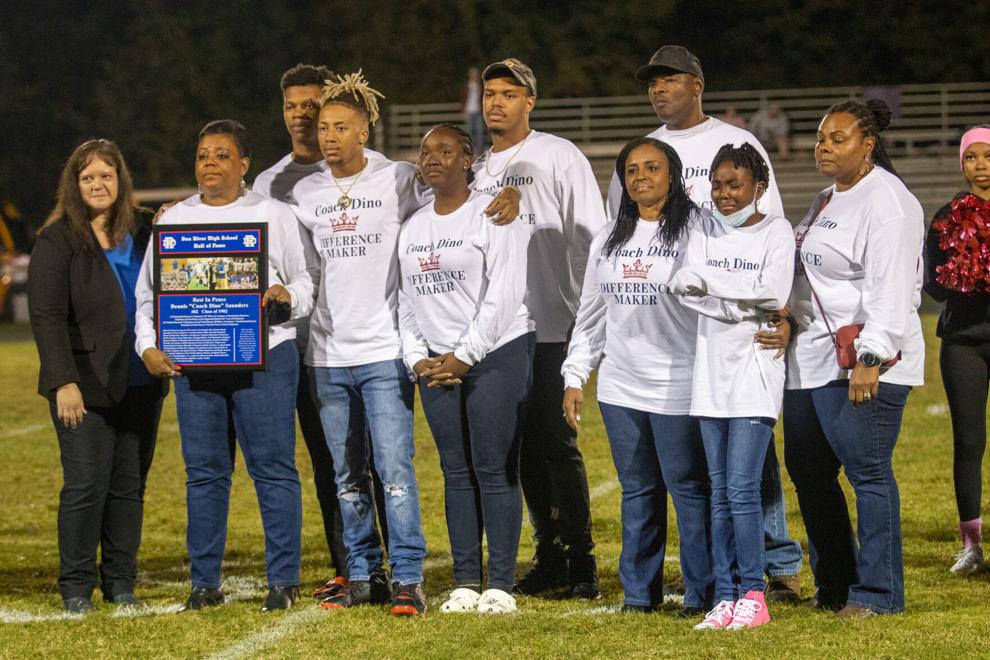 For Townes, her uncle's induction validated his hard work.
"It's good because he really deserved to get honored," Townes said. "He did such amazing things in life, made such a difference and he deserves it."
For Bullins' son, Cameron — who plays football at North Carolina Central University — his late father's induction served as proof of the influence he had on all those he coached.
"It just goes to show how big of a legacy he had with all the people he coached and had encounters with," Cameron said.
While Cameron knows his dad would've received the honor with his usual humility, he also knows his pops would've not only reveled a bit in his accomplishments but would've also been hungry for more.
"If he was here, I think he would've been very excited and proud of all his accomplishments over here, but if he was still here, I know he would want more," he said.
Edmunds spent seven seasons (1988-94) in the NFL, playing for the Miami Dolphins and Seattle Seahawks. He caught 33 passes for 575 yards and three touchdowns his rookie season and was named to the Pro Bowl at tight end in 1989 after catching 32 passes for 382 yards and three touchdowns. Edmunds earned his second consecutive Pro Bowl selection in 1990 after recording 446 yards and a touchdown on 31 receptions. He finished his career with 148 receptions, 1,894 receiving yards and 12 touchdowns.
He took over Dan River football's program in 2008 and led the Wildcats for 11 seasons before stepping away in 2019. In his time at the helms, he led the 'Cats to an overall record of 76-45 and a pair of Dogwood District championships. Edmunds also led the Wildcats to the playoffs for eight consecutive seasons from 2011-2018 and the 2011 state quarterfinals.
Edmunds also served as an assistant JV and varsity basketball coach and was on the staff of the 2014 state champion basketball team.
While he experienced great success on the sidelines at Dan River, it was the opportunity to impact young people's lives that meant that most to Edmunds. His induction Friday night served as validation to his hard work and dedication.
"It's a great feeling, being in your hometown, helping kids along the way, getting kids into college, it's great," Edmunds said. "My main goal when I retired football was to give back to kids and help them have the same opportunities I had. God's been about it in helping me do that."
Edmunds also found pride in being inducted into the same class as Bullins and Saunders, who he served as an assistant for on Dan River's JV boys basketball team.
"It's awesome," Edmunds said. "Dennis helped me a lot on the JV level in basketball and I actually coached under him. But they both brought a lot of energy and were all about teaching. Any time you get around people who are just like yourself and enjoy what they're doing, you want to learn from them as much as they want to learn from you."
Impacts still being felt
Heather Grogan, Bullins' granddaughter, has spent the last 11 years in classroom, teaching math at Dan River High School. The classroom isn't the only place Grogan is responsible for leading and helping mold young men and women as she took over Dan River's volleyball team this season.
Growing up watching her grandad be a leader and shaper of young men and women, Grogan picked up many techniques she used to this day.
"I think it's just that coaching isn't the most important thing about it, it's making sure whatever I'm doing, I'm modeling how I want them to act and be the kind of people I want them to be," Grogan said. "Praying for them, hoping they turn out to be good people and make sure they remember me more than just playing the sport or teaching them, but more as somebody who loved them as a person."
And of course, there's some perks to being the granddaughter of a coaching legend.
"I know as a teacher, one thing I've always enjoyed is being able to say his name in my classroom and you already have an air of respect because the boys who know who he is have such respect for him and they automatically look at you differently just because of that," Grogan said laughing.
Even though he shares no direct relation with Bullins, Grogan's husband, assistant Dan River baseball coach Tyler Grogan, still carries with him the lessons he learned from being around Bullins.
"The biggest thing was the high regard people held him in," Tyler said. "I can still go back and talk to guys about how much they loved playing for him, about how he showed him to not only play the game the right way, but then the stuff that goes along with it, teaching them how to be young men. I think that was one of his biggest goals was to get kids to realize what they can do and be off the football field and that's something I want to emulate."
Now that Cameron is a collegiate student-athlete and on the cusp of becoming his own man, he goes to his dad's advice quite a bit.
"He just always told me to take care of the books before football and everything else will care of itself and it's something I do and he was right," he said. "So, growing up, having him make do that is really helping me out for the long run."
Like any good coach or educator, Saunders was known for his huge heart and giving spirit — characteristics his son uses as well to get him through the grind of being a student-athlete.
"I use it as motivation keep striving on the football field, in the classroom and life in general," he said. "It's just good motivation to keep going like I always saw him do."
Edmunds maintains relationships with most of his players and there's one lesson he always stressed to them that they've learned the most.
"The thing about failure, you don't left failure define you as an individual," Edmunds said. "You have ups, you have downs, either way, you keep yourself up and allow yourself to have doing what you love doing and that's something I think they've always taken away from me."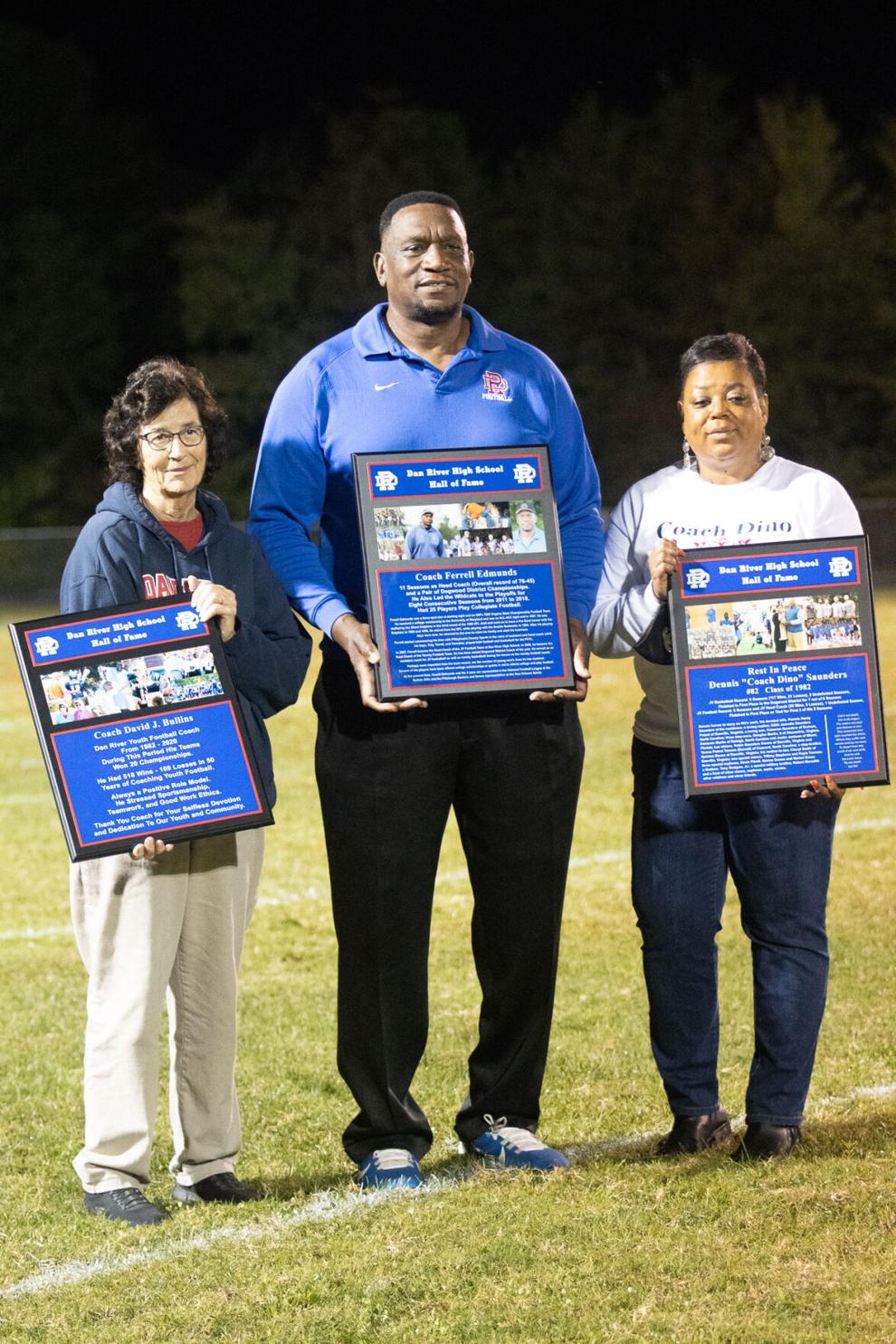 Finding the time
Being a coach, or working in athletics in general, is taxing on a person's time. Throw in working at Goodyear, where Bullins and Saunders each worked, along with being fathers, and both found little time for themselves at the end of the day.
However, Allison recalled her late father always taking time with them at the end of the day.
"Growing up, the most important thing to him was the time he spent with us," she recalled. "He'd get home from working and coaching all day and we'd be out in the yard, teaching me how to throw a softball, hit a softball, take groundballs, teaching me how to throw a football, whatever it was, and I miss that."
"I miss coming and sitting with him at the 50-yard line often just the two of us. We'd always be right there together, and he loved it."
Jason Springs, Bullins' grandson, recalled trips to the flea market with his grandad where his grandpa would not only find cool things for his grandson, but his players as well.
"We'd go to the flea market and he's buying something for the kids or he's buying me shoes or a shirt, it was something," Jason recalled. "He was always like, 'this is cool, who can use it? Either that or he's running the golf league at Ringgold Golf Course for the kids for 25 years. Every week, kids come up, don't have clubs and he'd have clubs for them to use. There was always something."
"He'd pick kids up for practice, give them equipment, anything they need. Anything he had that somebody else needed, he would give it to them. And that's always the way he was. That was the biggest lesson I got from him, let people know you care."
Allen concluded with a funny anecdote.
"We have boxes full of cleats at the house, we've got a box of shoestrings at the house," Allen said laughing. "Just in case a player needed shoestrings, shoulder pads, everything the kids might need."
Townes remembered sharing one of her favorite hobbies with her uncle, no matter how busy he was.
"We used to bake cakes together, and I love to bake cakes so I will always remember that," she recalled.