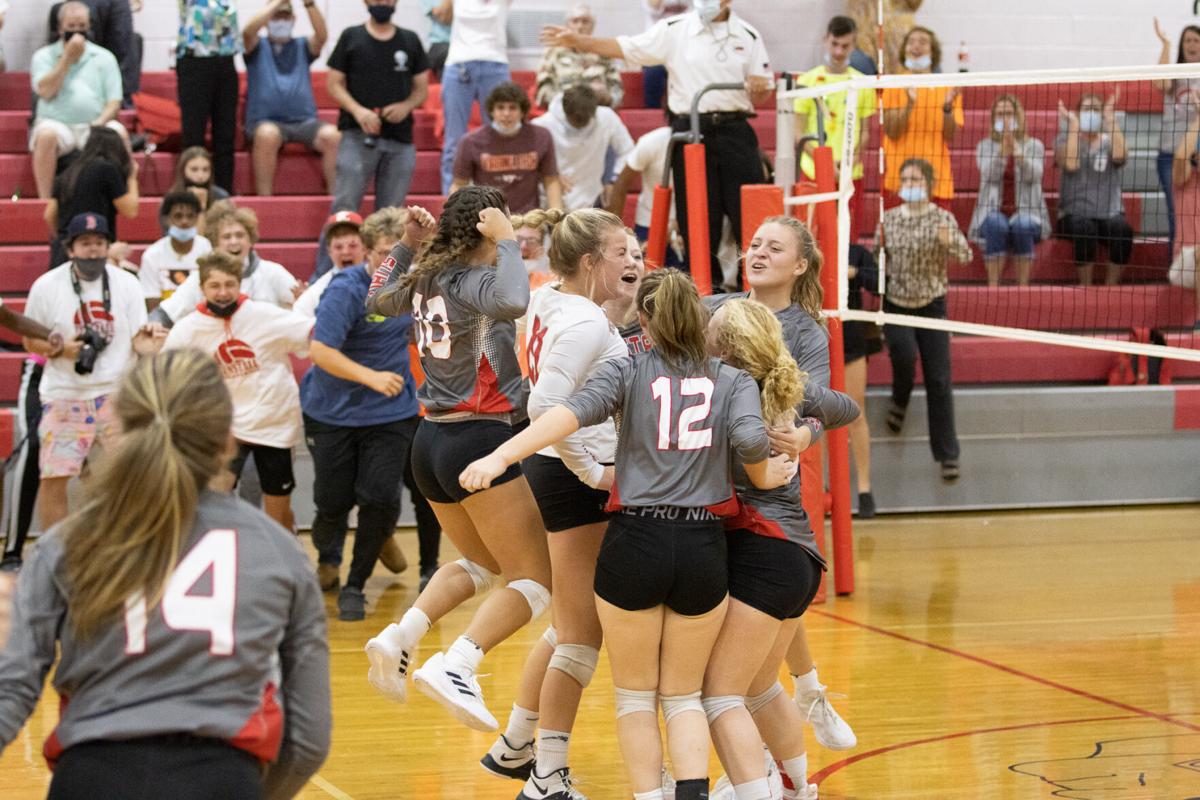 DRY FORK — The last time the Tunstall Trojans played into a fifth and decisive set, they fell victim to the Northside Vikings in the regional playoffs back on April 12.
Five months later, the Trojans found themselves heading into a fifth set against the Patrick County Cougars in a crucial, Piedmont District matchup Tuesday night.
Match point was set at 14-12 in Tunstall's favor. In a playoff-type atmosphere, the rumble of fans stomping their feet against the bleachers filled Tunstall's gymnasium, echoing off the walls. As the sound grew louder, fans held up one finger in the air, symbolizing the one and final point needed to take victory.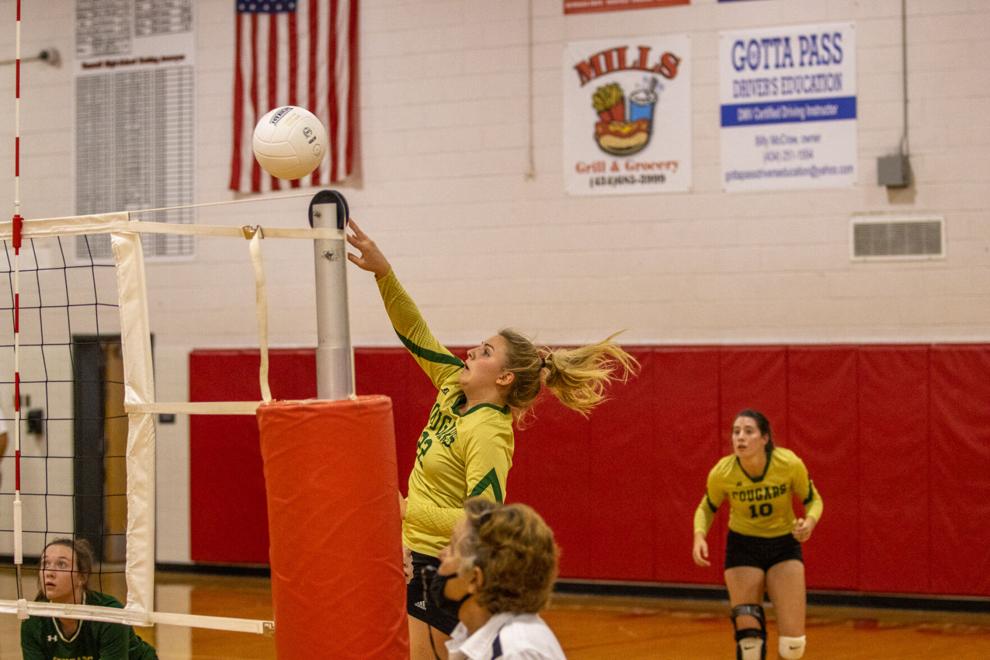 Sophomore Parris Atkinson served up the volley for the Trojans, hoping to put the game away swiftly. The Cougars worked together to attempt a potential comeback. But the rally would soon fall short, as Tunstall senior Emily Austin leaped up, blocking the Cougars attack and securing match point as the ball bounced down onto the hardwood. As the game went final, the proclaimed Tunstall student section, "Bleacher Creatures," stormed the court to celebrate with the team.
Tunstall (11-2) secured the well-earned win over Patrick County (7-6) in 3-2 sets. With scores of 20-25, 25-17, 22-25, 25-19 and 15-12.
"Before we went out there, I tried to remind the girls every time that if you make it to a fifth set, it's only going to 15. And that can change a whole game, in my opinion, instead of going to 25," said Tunstall head coach Cheryl Cockram. "When we walked out there, obviously they got a few good hits against us, and it looked like we were down. So, when I called the timeout, I told them 'Alright guys, remember this is to 15'. We need to play our game and hustle to the line and keep moving."
Prior to the timeout, the Trojans were down 1-5 early in the set, struggling to contain Patrick County senior Suzanne Gonzalez, who at the time scored four of the five points off of three kills and one ace. Gonzalez, who is known for her aggressive and lightning attacks and spikes, played crucial for the Cougars and was a threat for the Trojans throughout the night. She would go on to lead Patrick County with 22 kills and also collected 16 digs, which was the second most for the Cougars. She led the Cougars with six aces and was second most with 17 attacks.
Cockram agreed her team planned around Gonzalez and to attack the Cougars as a whole to shut her down.
"We talk about closing the block....and we did plan around her," said Cockram. "I told them [her team] to take advantage when she [Gonzalez] was on the back row, because we knew we needed to capitalize on those times, and also be able to take advantage of what we have our side. Being able to move around and trying to adjust to where she was hitting at us. She's a strong player."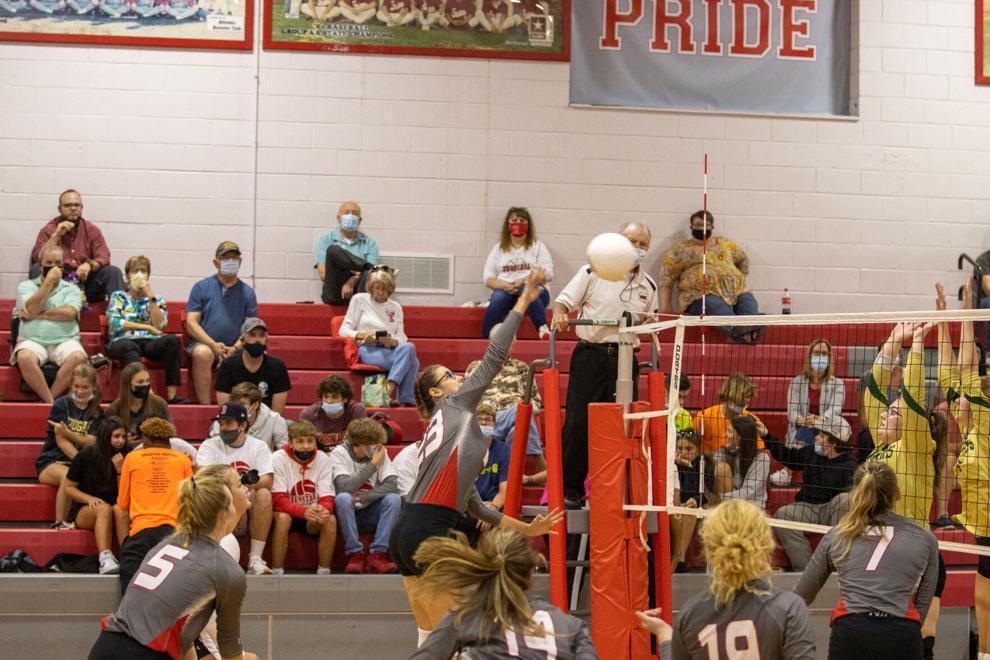 The Trojans used Austin, who possesses a similar skill set and playing style to Gonzalez, as a key piece to shut down her and the Cougars, as the rest of the Trojans followed suit to work with Austin to contain them.
"They always done a good job of reading hitters and blockers. They realized where she [Gonzalez] was going most of the time, trying to get up there," Cockram said. "That's defiantly going to be the biggest threat about them the next time is, we are going to work even harder, double blocking and adjusting our defense."
Tunstall was able to get back on track after the timeout. Austin secured an ace and kill to cut Patrick County's lead to 3-5. A Cougars hitting error and junior Leara Slattery's kill tied the game at five each. Following Slattery's kill, the Cougars called time in order to regroup and disrupt the Tunstall mojo.
But shortly after, the Trojans scored three consecutive points, highlighted by a block from Tunstall sophomore Carlie Marshall, spacing out their lead to 8-5. The Cougars called time again to settle down, but Tunstall's lead expanded little by little soon after, putting the game away out of reach.
"I wasn't quite sure what to expect since we hadn't played them up until this point. Obviously, by now we already played everyone one time," Cockram said. "With it being a little later in the season, both teams are and their strongest sides. And so, I knew it was going to be a fight. It usually is against Patrick County and what we saw is pretty much what I was expecting. I was expecting a competition to the end."
Tunstall junior Greenly Elliott led the team with 12 kills and 20 digs. Senior Emma Howell ended her night with 17 digs. Izzy White collected 30 assists for the Trojans. Marshall led the team in blocks with five, and Austin led with four service aces.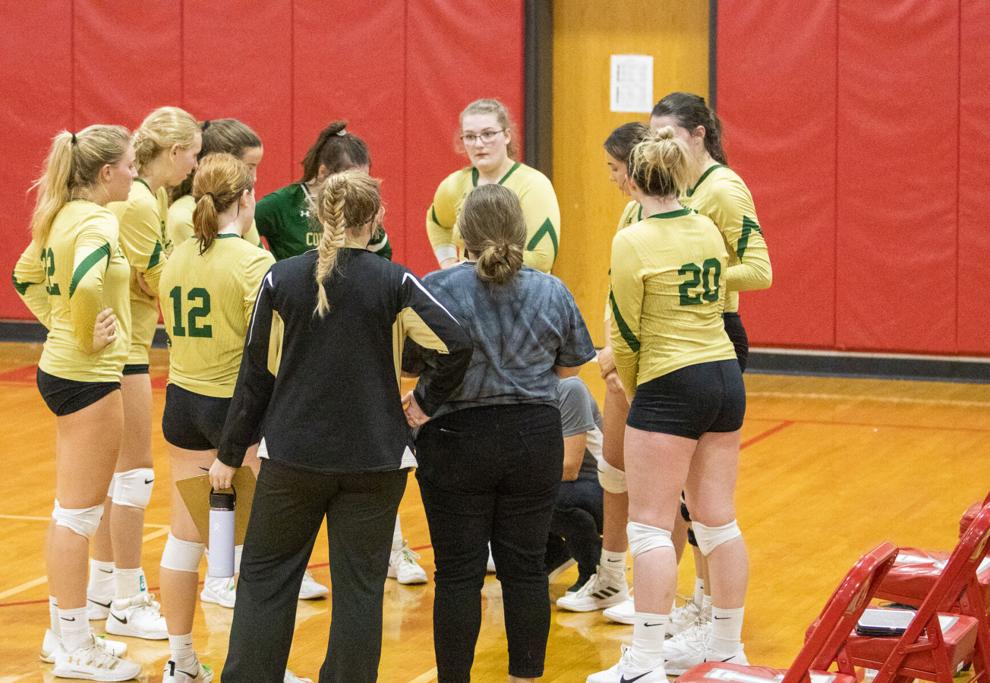 Patrick County junior Samantha Harris led the team in attacks with 21. Cougars senior Kaitlyn Johnson led the team in digs with 20. Senior Elaina Hopkins led with 30 assists