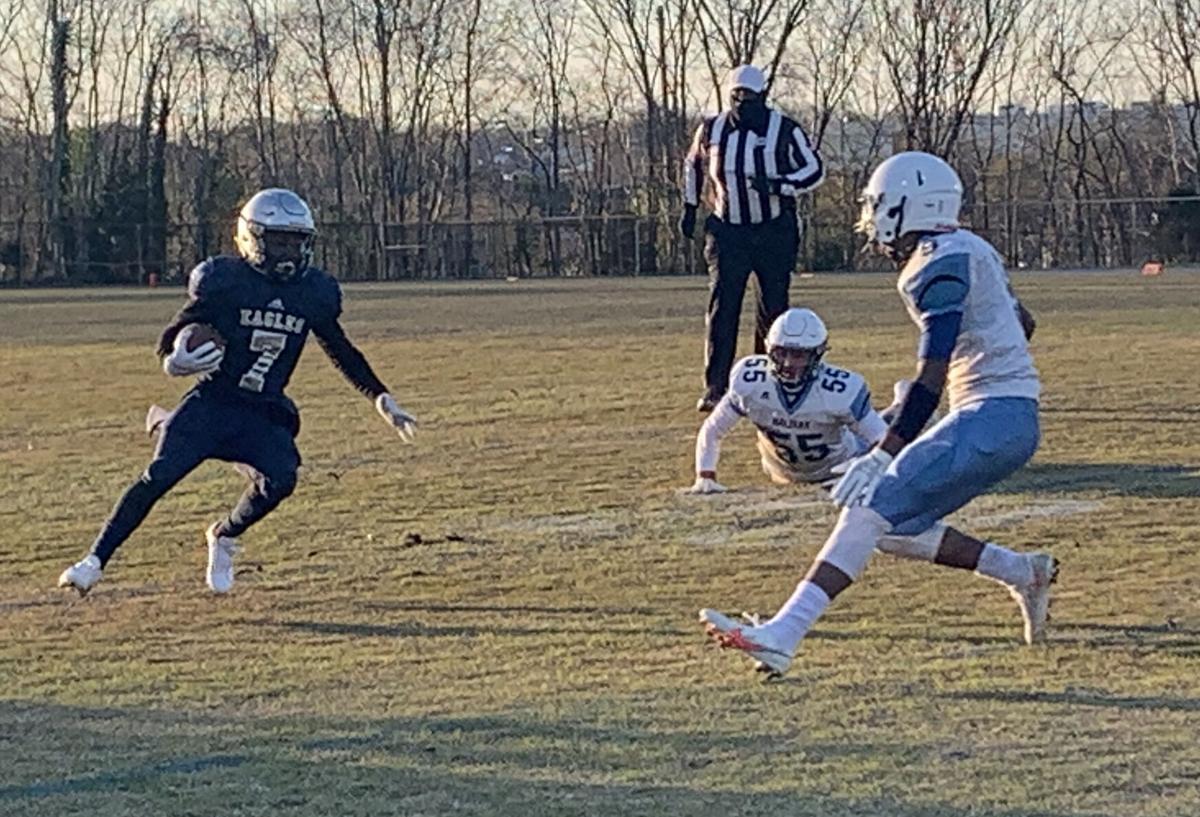 Given the fact it was playing its third game in eight days, the George Washington football team could've been forgiven if it had come out slow against rival Halifax County on Friday night.
In the end, GW didn't need the forgiveness as it raced past Halifax, 47-0, to clinch the Piedmont District regular-season title and give head coach Nick Anderson his 100th career win.
GW (5-1, 5-0 Piedmont) sealed the No. 2 seed in next week's Region 4D semifinal and will host third-seed Pulaski County at 7 p.m. Friday.
Near the end of the second quarter, Anderson met junior Jakobe Dixon as he was running back to the sidelines after an Eagles scoring drive. Anderson didn't fuss or instruct Dixon. Instead, he smiled, called him an all-star and patted him on the helmet before the two returned to the sideline.
And why not? Anderson had good reason. After all, Dixon had just scored his third touchdown of the first half, a 20-yard rushing score, that made it a 33-0 ballgame with just over three minutes left in the first half.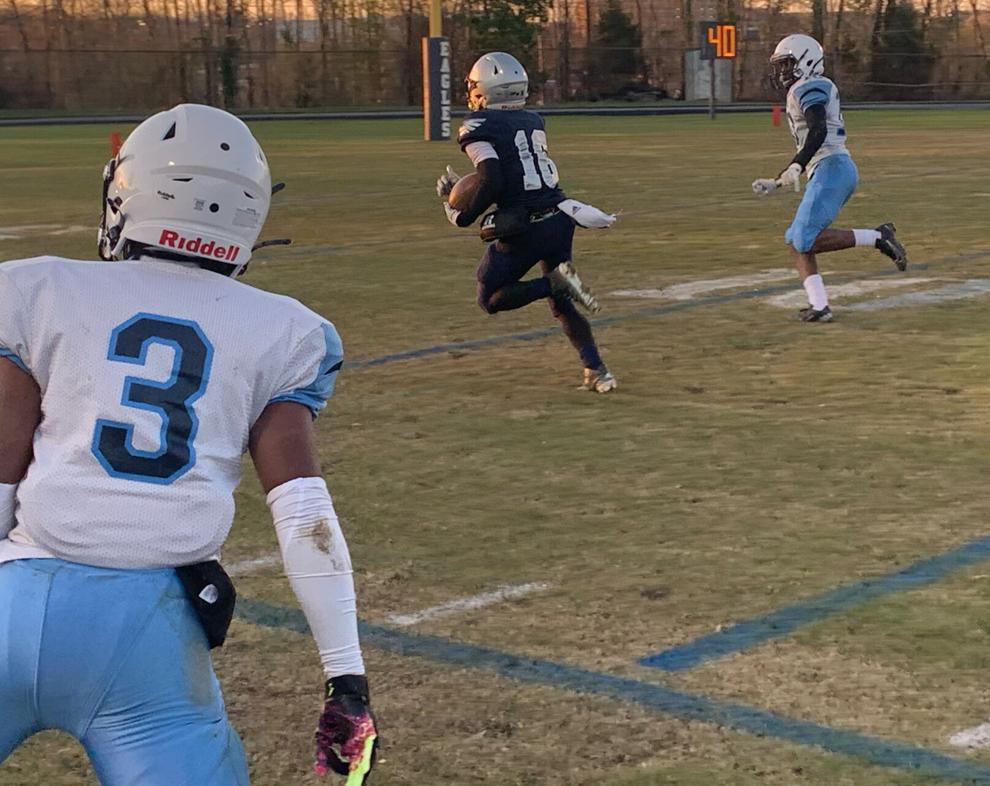 Dixon scored on runs of 32 and 20 yards and added a 72-yard pick-6 for good measure to help GW to a sizeable halftime cushion and the eventual rout.
"Staying home, that's all it was, just doing my job," Dixon said smiling when asked about his performance.
Despite the scoreline, the Eagles did falter a bit on their first drive, turning the ball over on downs after failing to convert a fourth-and-4 situation.
Halifax (0-4, 0-4) didn't fare much better on its ensuing possession, going three-and-out. GW's offense found its sea legs on the following drive as senior Sha'Kobe Hairston capped a quick, four-play, 46-yard march with his 3-yard score that made it a 6-0 game with 1:44 left in the opening period.
"Being with my guys, all the things we've been through, that's what made me work harder, that and being I'm a senior, and I got 16 more seniors around me, I just want to give it my all and leave it all on the field," Hairston said.
Sophomore Donavan Howard backed up GW's offense with an interception on Halifax's ensuing possession. It was the Dixon show from there as he grabbed the starring role with his 30-yard touchdown run and 74-yard interception return for a score to give the Eagles a 19-0 lead with 6:49 left in the half and help them shake off their sluggish start.
"Offense, really running the ball hard on every single play, and Jeb [Byrnes] making great plays; all the receivers put good touches on the ball and our defense man, our defense is a different breed this year," senior Jacob Bottoms said laughing. "We watched film and then [Jakobe], the speed he's got, I just call him five-and-out, and he just made the play on the interception and took it to the crib, and that's what got us started."
Dixon added, "We just had to get back in the groove honestly. We had to shake a few things off and make sure we came out there executing."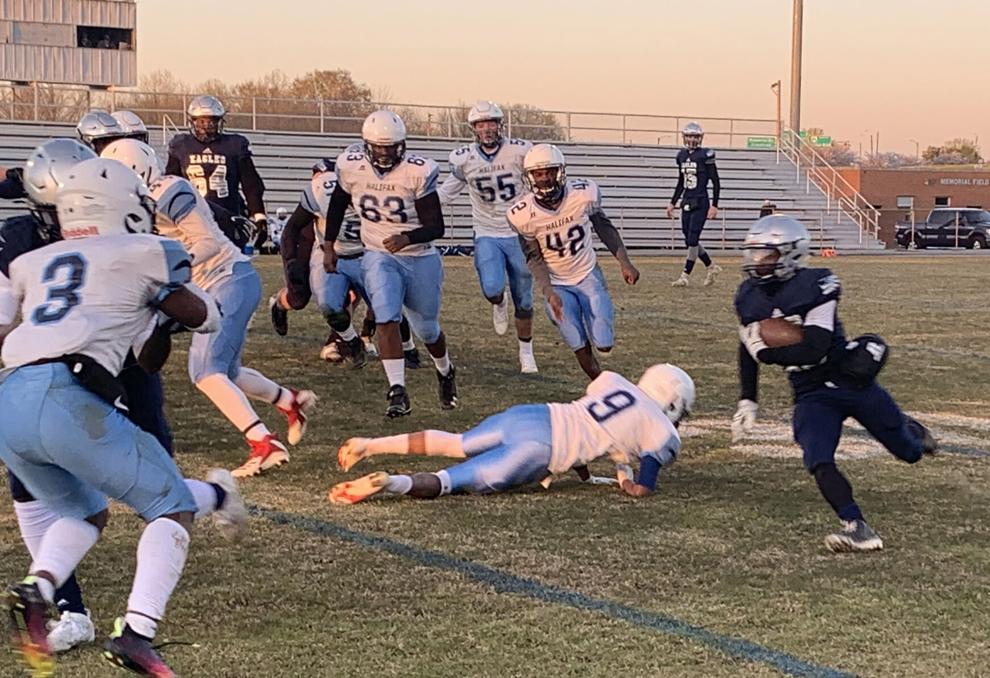 Hairston credited the team's camaraderie for helping them over the hump against the Comets.
"Believing in our guys, man," Hairston said. "Just keeping us together, bonding, because no matter how hard it is, we're going to work together as one and get the win. We just had to keep grinding our gears and getting back into the flow of things. But we got a couple of big plays and honestly, that made everybody want to keep going harder."
After Dixon's pick-6, it was senior Willie Edmunds' turn to score as he ripped off a 25-yard touchdown run to push GW's lead to 26-0 with 5:37 left in the first half. Dixon's third and final score of the night made it a 33-0 game and senior Zavion King got the Eagles' special teams involved when he found a gap for a 25-yard punt return that gave GW a 40-point cushion going into halftime.
With their regular season completed, the Eagles can turn their attention toward Pulaski — a team that ended GW's season back in 2018 with a narrow 17-14 victory.
"Honestly, all season, for us seniors and underclassmen, they want us to put on a show for them and they want to put on a show for us," Bottoms said. "But we're just making sure we keep our heads humble, but we really want some revenge from last time at Averett."