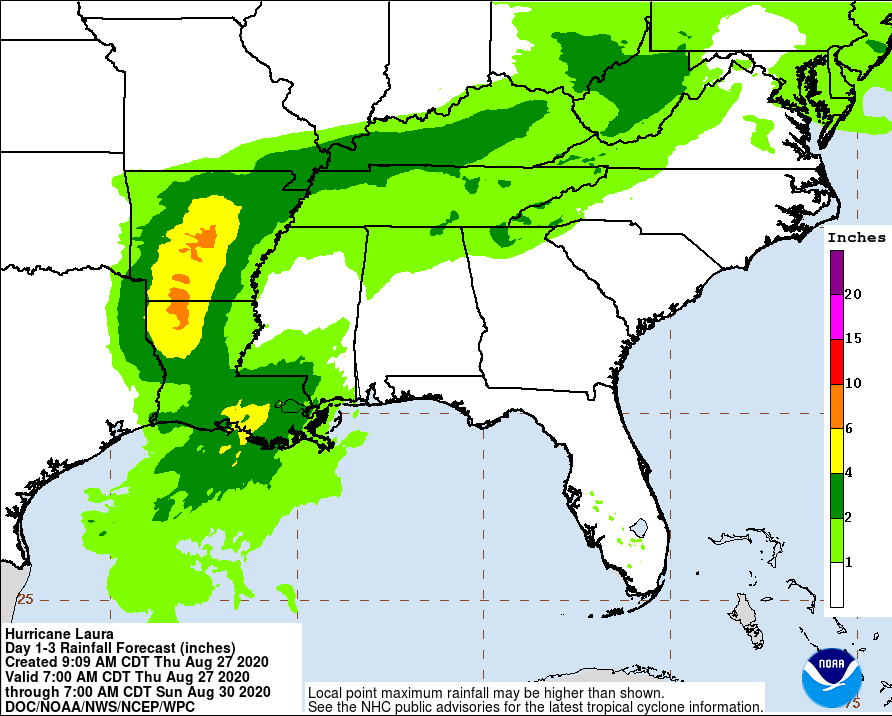 All hurricanes weaken after coming ashore, but most keep spinning to a lesser degree long after landfall.
Such is the case with Hurricane Laura, which came ashore in Southwest Louisiana with 150 mph sustained winds early Thursday. The circulation center of Laura will live on, albeit with much weaker winds, starved of its fuel from warm Gulf of Mexico waters, diminishing to a tropical depression on a path northward then eastward.
The zombie spin of Laura will likely move over or very close to the Roanoke and New River valleys on Saturday.
The results for our region will seem tame compared to the Gulf Coast but have some potential to be problematic, with heavy rain, gusty winds and possibly sporadic tornadoes.
Heavy rain is the most common threat to our region from inland remains of a tropical system. Most of the major flooding episodes in our history, such as in 1985 with remnants of Hurricane Juan, were related to tropical systems.
But those moved ashore farther east along the coast, and were slow-moving systems with moisture banking along a stationary front. If Laura's remnant low does cross Virginia, it would be the most westward landfalling Atlantic hurricane on record to do so, according to research by Richmond Times-Dispatch meteorologist John Boyer.
Coming ashore farther west, Laura's moisture will have more time to spread out, and the system will be moving rapidly, kicked along by a low-pressure trough and cold front behind it, with no stationary front draped across our region.
A quick burst of rain, possibly thunderstorms, is likely on Saturday, with many places getting 1-3 inches, and some getting more where heavy rain pours for longer or stronger storms move over in succession. That may be enough for some localized flooding problems, but large-scale, catastrophic flooding with 6 or more inches of rain appears to be unlikely.
Laura's circulation center will likely continue to have winds of 15-30 mph near the surface as it moves through. Some gusts could be greater, possibly 40-50 mph in a few spots as Laura's spin interacts with the upper-level trough behind it and the higher terrain in our region.
Such winds are comparable to those that commonly occur in winter behind Arctic cold fronts, but fully leafed trees in wet ground have more potential to fall in late August than bare trees in mid-winter. Tree damage and power outages are possible, probably sporadic, but more widespread if somewhat stronger wind gusts occur over a broader region.
The spin of Laura may also translate into spinning storm cells that could spawn a few tornadoes. While most tornadoes spawned by tropical systems are brief and weak, some can be more intense and have longer tracks, as happened near Richmond with Florence in 2018 and across much of Virginia with Ivan in 2004.
The threat of tornadoes appears to be greater east of Roanoke and the Blue Ridge, where daytime heating on Saturday may destabilize the air more before squalls arrive.
Laura will move on by Sunday, with the trailing cold front bringing a somewhat cooler and much drier day, with 50s to near 60 lows and highs no warmer than the lower 80s.
The exact nature and intensity of risks with Hurricane Laura's remnants for our region are still subject to change as the inland track is fine-tuned and its effects are observed in states west of us. Pay attention to reputable internet and media sources — including roanoke.com/weather/ — for any changes in the weekend forecast.