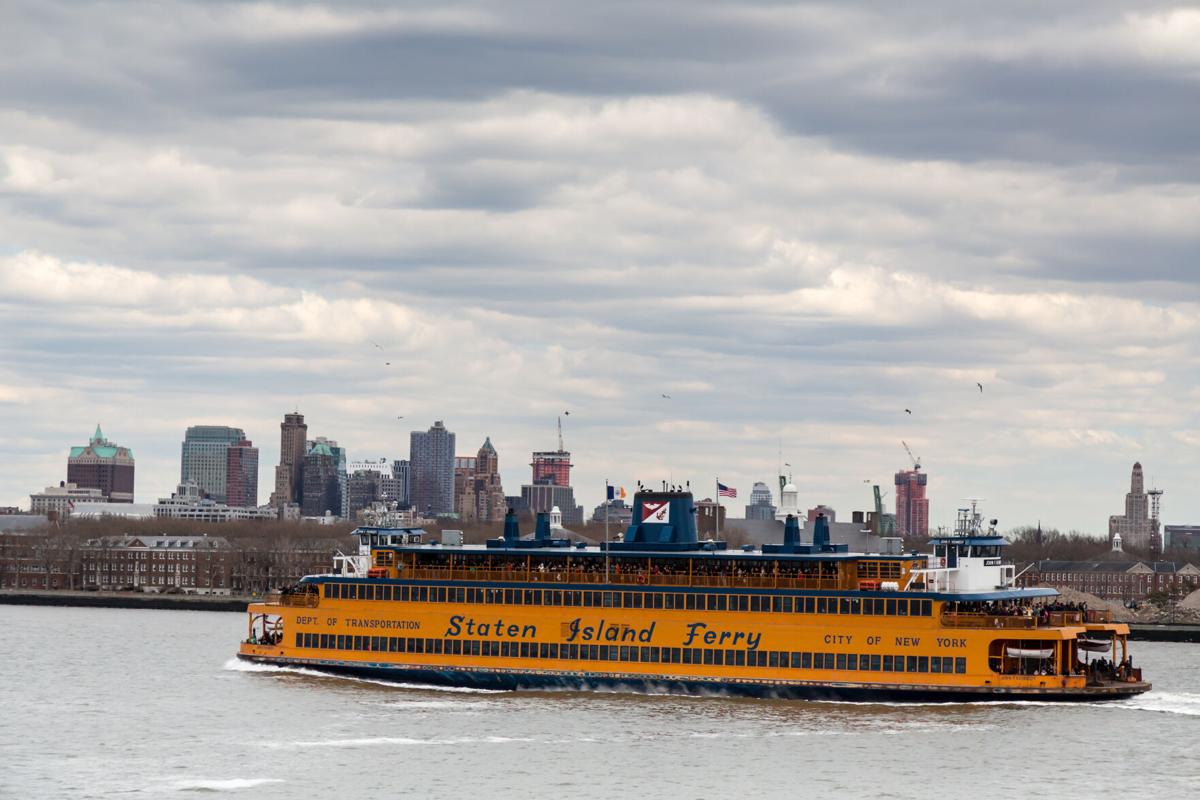 If you travel at all this summer, chances are most of you will be confined to the U.S., and many off those will be hitting big cities. Yes, you can find pricey private sightseeing tours almost anywhere, but some U.S. cities offer public transit trips on spectacular routes that are a lot less expensive, offering flexible schedules, and avoiding extended stops at cheap souvenir shops.
Here are a few favorite public trips in the U.S. that should be on your "must" list whenever you visit the region. Schedules listed are based on current COVID-19 service levels and subject to change, and various health protection rules, such as masks and distancing, are in effect. The minimum age for senior fares is 65.
New York's Staten Island Ferry is the unquestioned "best deal" national champ for spectacular public transit rides: It showcases the iconic lower Manhattan skyline and harbor views that include the Statue of Liberty and Ellis Island, it runs 24/7/365 every 15 to 20 minutes during commute rush hours, every 30 minutes off-peak and on weekends, and it's free! Current service is operating as normal.
Catch the ferry by taking a subway to South Ferry/Whitehall St station. In New York, the best way to ride subways and buses is to use a MetroCard, at $2.75 for a single trip, including transfers, or $33 for weekly unlimited travel; otherwise, the single trip fare is $3.00. Half-price senior MetroCards require prior application: Check new.mta.info/document/28261 for info on how to apply by mail.
Monterey Transit's Big Sur Bus route 22 retains its "most scenic public bus trip" title for 2021. It runs along the spectacular coastal Highway 1 from Monterey to Nepenthe — the stretch of road you see in so many sporty car commercials — and it even stops at the Bixby Bridge for riders to take pictures. Currently (during COVID) it operates three daily round-trips.
Catch a 22 bus in downtown Monterey or Carmel. One-way fares are $3.50; $1.75 for youth and seniors; all-day passes are $10 or $5 for youth or senior. Check mst.org/store/ to buy a pass in advance.
Classic Urban Elevated Trip
Several U.S. cities once had elevated transit lines through their centers, but only Chicago still retains them in the city core. Four "El" lines run completely around the famed "Loop" on tracks elevated above busy city streets, giving you birds-eye views of the urban center. Cars are modern, not vintage, but the views are timeless.
All Chicago transit rail lines run to or through the Loop, where you can catch trains on the old El sections. One-way fares are $2.50 ($5 from O'Hare Airport) or $1.25 for seniors; $10 for an unlimited ride day pass. Senior fares require special ID issued only in person after you arrive in Chicago.
Although several city systems run short vintage streetcar routes mainly for tourists, only New Orleans and San Francisco fully integrate vintage streetcars into their regular transit service. For now, San Francisco Muni's E Embarcadero and F Market & Wharves vintage-car lines, as well as its cable car lines, are on COVID suspension, leaving New Orleans your only option. There, the light rail system operates almost entirely with a mix of restored vintage cars and newly-built vintage-design cars. Routes include Canal Street, the Garden District, the French Quarter, and the waterfront. One-way fares are $1.25 for adults, 40 cents for seniors; all-day passes cost $3 per day.
Obviously, you can find additional interesting local transit rides in other U.S. cities. Among the most obvious: harbor ferries in Boston and Seattle, "Inclines" in Pittsburgh, coastal regional rail services in the San Diego and Los Angeles areas, Seattle's monorail, Hawaii's two-bus line combo that circles Oahu. Unfortunately, some interesting systems, such as the "personal rapid transit" in Morgantown WV and many ferry routes are temporarily suspended. But wherever you are, check: You'll usually find some kind of trip worth taking.