Smoke from wildfires burning across central Canada and the western United States is casting a hazy, potentially harmful pall over Virginia.
The pollution monitors in the Richmond area and elsewhere in the state have been in the "code orange" category, which is a rare concentration for our area and considered unhealthy for sensitive groups.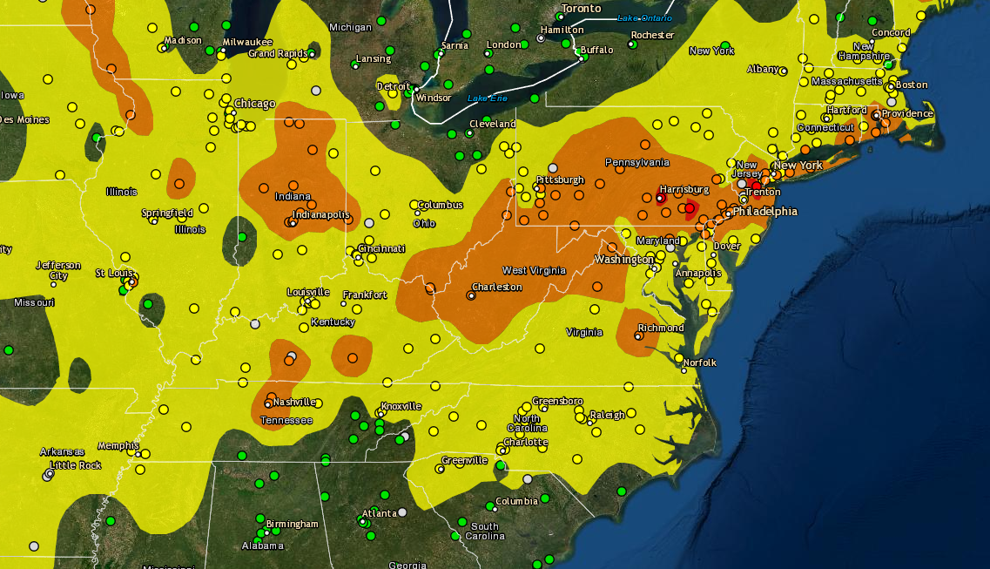 During code orange conditions, people with heart and lung diseases and active children and adults should limit or reschedule any strenuous outdoor activity.
The small particulate matter found in wildfire smoke can aggravate asthma, bronchitis and emphysema.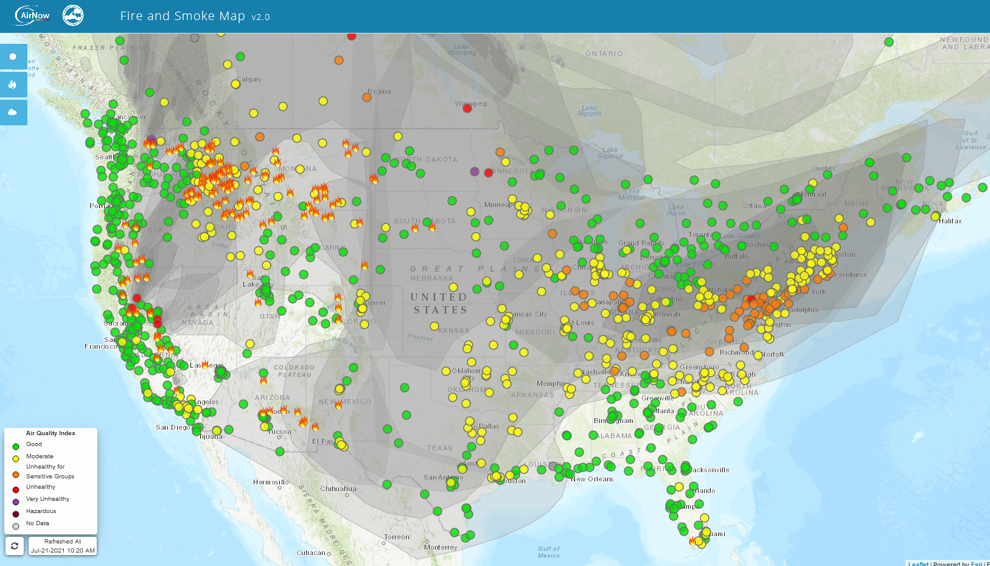 Monday's air quality was in the moderate (code yellow) range across most of Virginia as the latest smoke plume began to move into our region from the northwest. But much of the Mid-Atlantic and Northeast had code orange with pockets of code red yesterday.
The smoke also gave a more colorful look to the recent sunsets and sunrises. Scattered storms are possible later today, so those clouds may affect the visibility of the next sunset.
Large wildfires burning in central Canada near the border of Manitoba and Ontario are the main culprit for the smoke in our region and elsewhere in the Northeast.
But generally, smoke from fires throughout the western United States is also fanning out to the east along the curving path of the high-altitude jet stream. On Wednesday, satellites detected smoke layers spreading as far south as the Rio Grande and as far northeast as Canada's Maritime provinces.
Climate change is worsening the hotter and drier weather patterns in western North America, which is an important factor contributing to the more extreme fire behavior in recent years. 
Early in the week, that smoke was mainly well above ground level in Virginia, so we were able to witness a smoky-tinge to the sun and moon without breathing degraded air.
But more of that smoke reached ground here on Tuesday night and Wednesday morning. According to Dan Salkovitz, meteorologist at the DEQ, this was due to two factors: subsidence - descending air - along with convergence ahead of a cold front crossing the Appalachian mountains. On Tuesday afternoon, improved air quality was already showing up in western Pennsylvania, western Maryland and West Virginia.
The sticky air mass ahead of that front also worsened the haze.
"When the humidity is up, the water vapor is up, the particles grow in size because they're hygroscopic," said Salkovitz. "They absorbing."
Some short-term improvement is expected in Virginia on Thursday due to a cleaner, drier air mass blowing in behind a cold front.
The DEQ predicts good air quality (code green) for Richmond, Roanoke, Winchester and Hampton Roads. The smoky air will take longest to clear out of southeastern Virginia, however.
Dew points on Thursday will range from the mid 50s to lower 60s across the commonwealth, versus the haze-inducing mid 60s to lower 70s that were widespread on Wednesday.
In the long-term, we may see more smoky days. Those distant fires continue to burn, and the ingredients for an active fire season in the Western U.S. will persist into the fall. If the jet stream pattern returns to a similar setup in the weeks ahead, with a wave rippling down from Canada to the Great Lakes, more smoke could come our way.
And if cold fronts fail to sweep the polluted air out to sea, high pressure systems could trap residual smoke as well.
What do the readings mean?
Air quality is broken into color coded categories based on health risk, and focuses on two major types of pollution: ozone and particles.
Here are the air quality categories, according to the Virginia Department of Environmental Quality:

• Code Green: Poses little or no health risk.

• Code Yellow: Unusually sensitive people should consider reducing strenuous outdoor activities.

• Code Orange: Active children and adults, and people with heart or lung disease (including asthma) should limit or reschedule strenuous outdoor activities.

• Code Red: Active children and adults should limit or reschedule strenuous outdoor activities. People unusually sensitive to air pollution, especially those with heart or lung disease (including asthma), should avoid strenuous outdoor activities.

• Code Purple: Active children and adults should avoid prolonged strenuous outdoor activities. People unusually sensitive to air pollution, especially those with heart or lung disease (including asthma), and older adults should avoid all outdoor strenuous activities.

High air pollution levels can impair breathing, cause lung damage, coughing and eye irritation and put extra strain on the heart. Air pollution also can aggravate asthma, bronchitis or emphysema.
Those are based on measurements from air quality stations, which are sited near most of the major metro areas in the nation.
The concentration of particle pollution is reported hourly, measured in micrograms per cubic meter of air. High values are obviously harmful, but so is persistence. If the 24-hour average exceeds 35, that's considered a day that exceeds clean air standards set out by the EPA.
Richmond, for example, trended from a concentration of 34.1 at 6 p.m. on Tuesday, to 38 at 7 a.m. Wednesday, then rose to 44.3 at 2 p.m.
Sunday's readings were rather low by comparison, mainly between 5 and 8.
Salkovitz said chances were good that Wednesday would turn out to have a code orange average based on the readings through midafternoon, but it would take until midnight to know for sure.
The Winchester area had some of the highest concentrations of pollution in the state on Wednesday morning, but saw improvement during the afternoon in the wake of the cold front.
When was the last time it's been like this here?
The most recent code orange day for particulate matter in the Richmond area was at the Bryan Park monitor on July 5, 2021, which averaged 36 micrograms per cubic meter following holiday fireworks. That reading is still preliminary. Prior to that, the last instance locally was June 13, 2008.
Richmond saw no particulate code orange days during the 2010s, but 45 days between 1999 and 2008 (relative to tighter current standards). Some of those spikes were the result of closer fires in the Great Dismal Swamp, North Carolina, Shenandoah area and even Quebec.
In records going back to 1999, Richmond's highest particulate pollution day was Aug. 8, 2001 at 52 micrograms per cubic meter.
The thresholds for ozone are different. Richmond most recently had a code orange for ozone in May, though exceedances have declined dramatically since the 1990s due to cleaner vehicles and stricter emissions rules.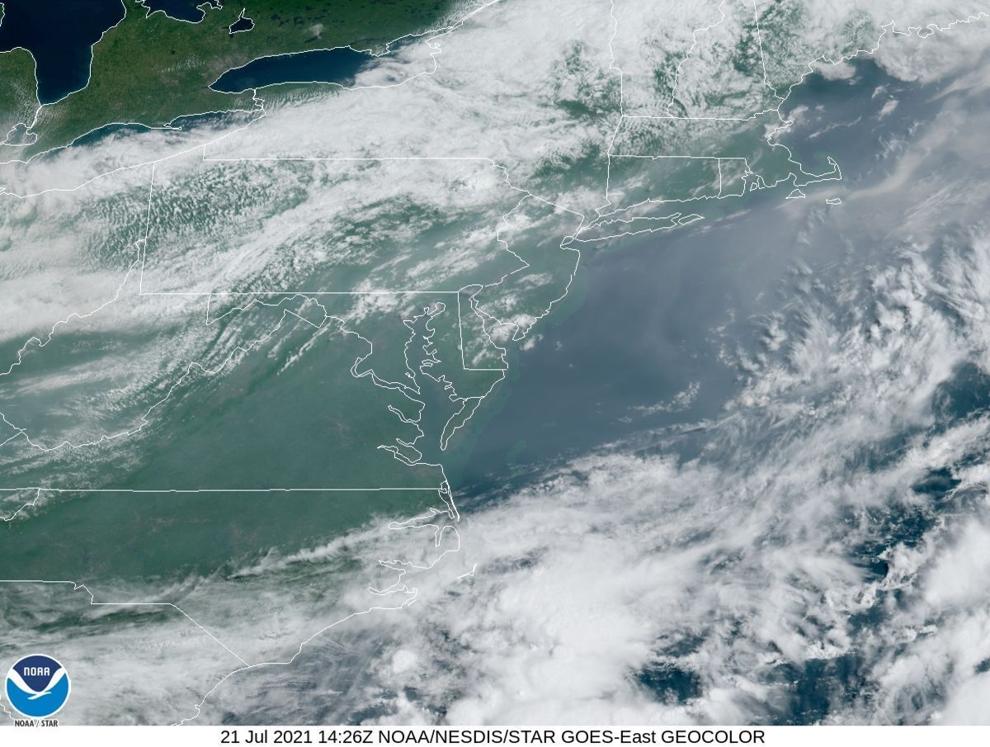 ---
Seventy years ago, the sky from the Great Lakes to Virginia transformed without warning.